Welcome to the Nebraska FFA Foundation website!
The Nebraska FFA Foundation exists to enhance quality education/FFA programs in order to achieve excellence in leadership development, curriculum innovation and scholastic advancement of students. With your help we can make a difference. Our full website furthers our mission by providing ways for you to learn more and get involved. Thanks for visiting. For more information, contact us or visit our full website.
Titan Tire raises $38,760 for Nebraska FFA at Husker Harvest Days
Posted on 09/24/2013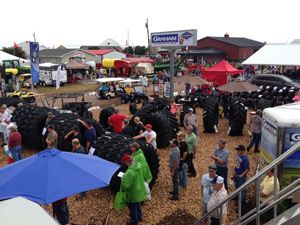 Each year, Titan Tire Corporation donates hundreds of farm tires for auctions that benefit local chapters of the Future Farmers of America (FFA). This year, Titan added Husker Harvest Days to the list of events at which the company sponsors an auction. Titan donated a total of 74 tires at the September 10th event — valued at more than $120,000 — which raised $38,760 for the local FFA chapter.
"We take great pride in supporting the FFA and helping to benefit the next generation of growers," says Scott Sloan, agricultural product manager at Titan Tire Corporation. "We've been doing this very successfully for years at Farm Progress and Sunbelt Ag Expo, and it's great to see that the event went off without a hitch at our first year doing it in Nebraska."