Welcome to the Nebraska FFA Foundation website!
The Nebraska FFA Foundation exists to enhance quality education/FFA programs in order to achieve excellence in leadership development, curriculum innovation and scholastic advancement of students. With your help we can make a difference. Our full website furthers our mission by providing ways for you to learn more and get involved. Thanks for visiting. For more information, contact us or visit our full website.
Neujahr's Partnership Provides Hands-On Learning Experience
Posted on 12/17/2013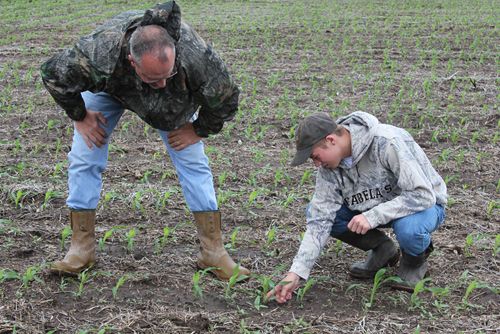 It all started with a weedy piece of land for Andrew Neujahr to learn about marketing, agronomy, contracting and insurance to gain hands-on experience with farm management.
Neujahr's family farms near Waverly and when a neighbor approached him about farming a piece of land to get rid of the weeds, Loren Neujahr, Andrew's dad, thought this was a great opportunity for his son to learn the ropes.
Andrew took on the task as part of his Supervised Agricultural Experience (SAE). He farmed the five acres for a year before forming a partnership with Tim Boender, Regional Sales Director for Winfield Solutions, also of Waverly. As part of this partnership Boender provided seed and chemicals for Andrew's land. He has grown both corn and soybeans and learned to take soil samples and tissue samples. He works closely with one of Croplan's agronomists to help decipher the data. Research results from Andrew's field are shared with Winfield.
"This has just been a great learning experience. I've received seed, chemical and an awesome learning opportunity," says Andrew. He is now a freshman at the University of Nebraska–Lincoln majoring in Agronomy and plans to return to the family farm. This partnership is setting him up for success in finding an internship and for a successful future on the farm.