Welcome to the Nebraska FFA Foundation website!
The Nebraska FFA Foundation exists to enhance quality education/FFA programs in order to achieve excellence in leadership development, curriculum innovation and scholastic advancement of students. With your help we can make a difference. Our full website furthers our mission by providing ways for you to learn more and get involved. Thanks for visiting. For more information, contact us or visit our full website.
Graham Recognized for Contributions to Humphrey Community and School
Sarah Mullen on 04/06/2017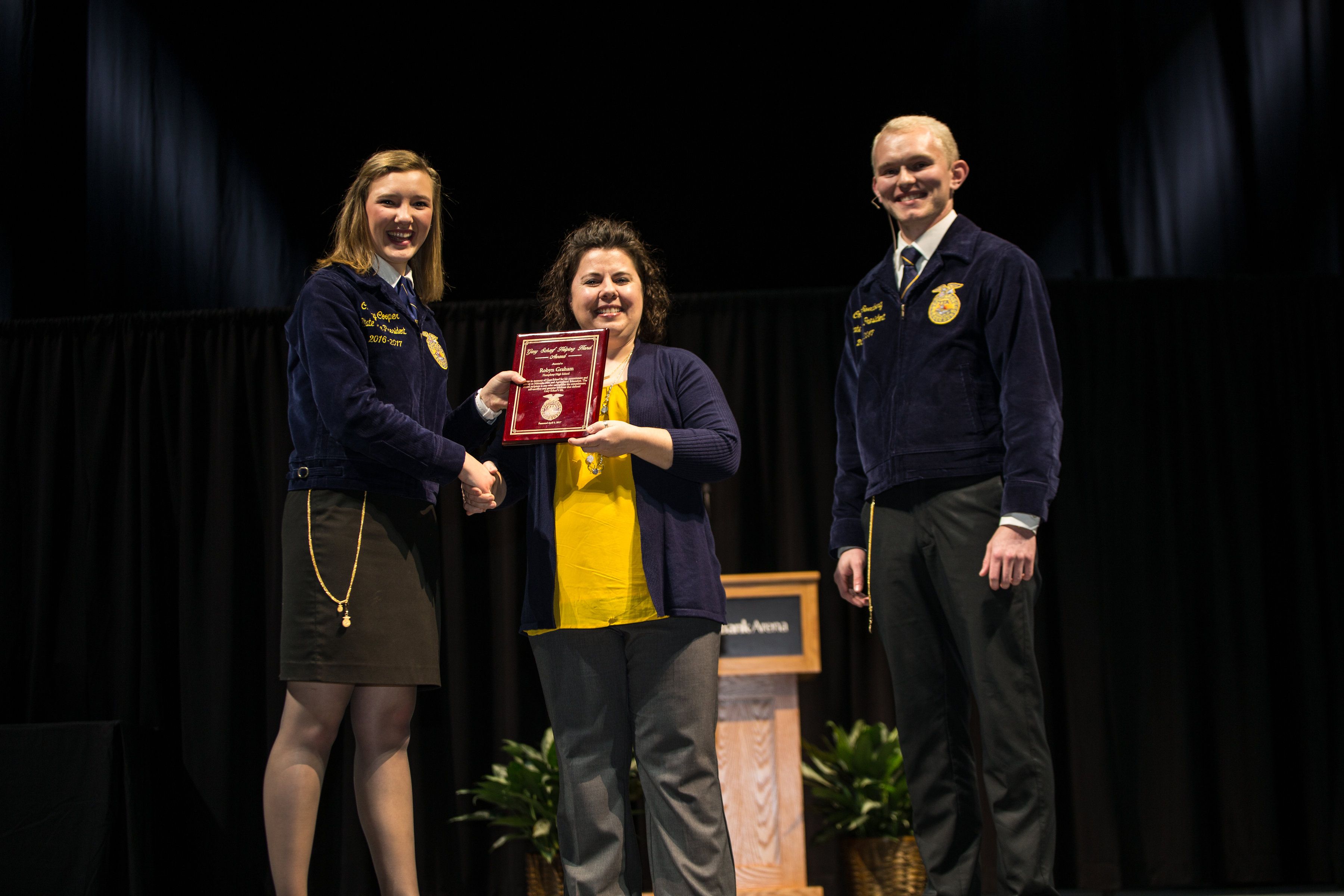 (LINCOLN) – The Nebraska FFA Foundation presented Mrs. Robyn Graham with the 2017 Gary Scharf Helping Hand Award at the Nebraska FFA Convention on April 5.
Robyn Graham, FFA advisor for Humphrey FFA, was nominated for the award with support by numerous fellow teachers, students, past students and school administration. Toni Rasmussen, former student teacher for Graham, wrote in her nomination that Graham balances her family, students, lessons and FFA program, along with owning a cow-calf operation, farm ground, and coaching the cheerleading and dance teams.
Recently, Graham helped establish a tractor playground in the Humphrey community park. She spent over three years planning, coordinating fundraisers, finding volunteers, explaining and overseeing the project. This project started as an idea from a few committed FFA members and, as Rasmussen writes, "This was a large project that she could have easily turned down since it was so overwhelming. However, she knew the group of students were passionate to complete it and she did not want to turn them down."
Jennifer Dicke, who grew up with Graham, supported her nomination by saying, "Robyn wears more hats in one year than any of us ever will in a lifetime. Mom, daughter, advisor, teacher, welder, wife, cheer/dance sponsor, gardener, public speaking expert, community leader, playground builder, fruit saleswoman, donkey-rider, best friend and so many more things…she truly has integrated passion for an industry into her students as well as her family and loved ones."
The Gary Scharf Helping Hand Award recognizes a Nebraska agriculture teacher or FFA advisor for what he or she has done in helping others, specifically in the school and community, outside of agriculture education and FFA. Graham was announced as the award winner during the Nebraska FFA State Convention in Lincoln. She received a plaque and $500 cash award from the Nebraska FFA Foundation.
The annual award is named for Gary Scharf, who was a victim of an Omaha mall shooting in December 2007. Scharf grew up on a family farm outside of Curtis, Nebraska and worked in the agricultural chemical industry. He made a significant contribution to Nebraska's agricultural and FFA community through his years of service on the Nebraska FFA Foundation Board, including a year as Board President in 2002-2003.