Welcome to the Nebraska FFA Foundation website!
The Nebraska FFA Foundation exists to enhance quality education/FFA programs in order to achieve excellence in leadership development, curriculum innovation and scholastic advancement of students. With your help we can make a difference. Our full website furthers our mission by providing ways for you to learn more and get involved. Thanks for visiting. For more information, contact us or visit our full website.
277 FFA Jackets Awarded
Victoria Talcott on 10/06/2017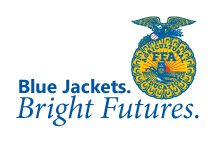 This year's Blue Jacket. Bright Futures. program received the most applications ever with 764 applications.
Thanks to the generous support of our donors, we were able to award 277 deserving FFA members with a new FFA jacket and tie or scarf. A committee met last Wednesday to review the applications to choose the winners. They found that there are many FFA members that are ready to begin their FFA career by already participating in chapter meetings, contests and community service.
FFA members that applied ranged in age, background and future in FFA. The committee enjoyed reading over the questions that the members answered. Each student answered what FFA means to them, how the jacket will impact them, what they have done and what their FFA future holds.
Here is a glimpse of what some FFA members wrote on their applications:
When the FFA chapter raised money for a family member in need this FFA member knew that she was going to join. "I remember meeting the new advisor and seeing all of the members helping serve food and having fun to help out my family. That showed me that FFA is so much more than judging cows and wearing boots. It helped me know that there are going to be chances to help others."
Another FFA member wrote, "FFA shapes people into leaders so we can contribute to our chapter, be positive role models for the youth and lead our chapter to greatness. It also teaches members about life skills, like saving money and keeping good records through the SAE program. Overall, FFA is a way we can come together and help each other improve upon ourselves and work together to be successful."
One member wrote their views of FFA. "There are only two words to describe FFA, and those are great experience. The reason I say that is because you have so many opportunities to get to learn new things, meet new people and even travel."
As you can tell from reading these three application quotes, these members are all passionate about agriculture and deserved FFA jackets.
Thank you to all of our jacket donors, and congratulations to all jacket recipients!