Welcome to the Nebraska FFA Foundation website!
The Nebraska FFA Foundation exists to enhance quality education/FFA programs in order to achieve excellence in leadership development, curriculum innovation and scholastic advancement of students. With your help we can make a difference. Our full website furthers our mission by providing ways for you to learn more and get involved. Thanks for visiting. For more information, contact us or visit our full website.
Nebraska FFA Members Learn to Serve by Packing Meals
Posted by Sarah Mullen on 04/06/2018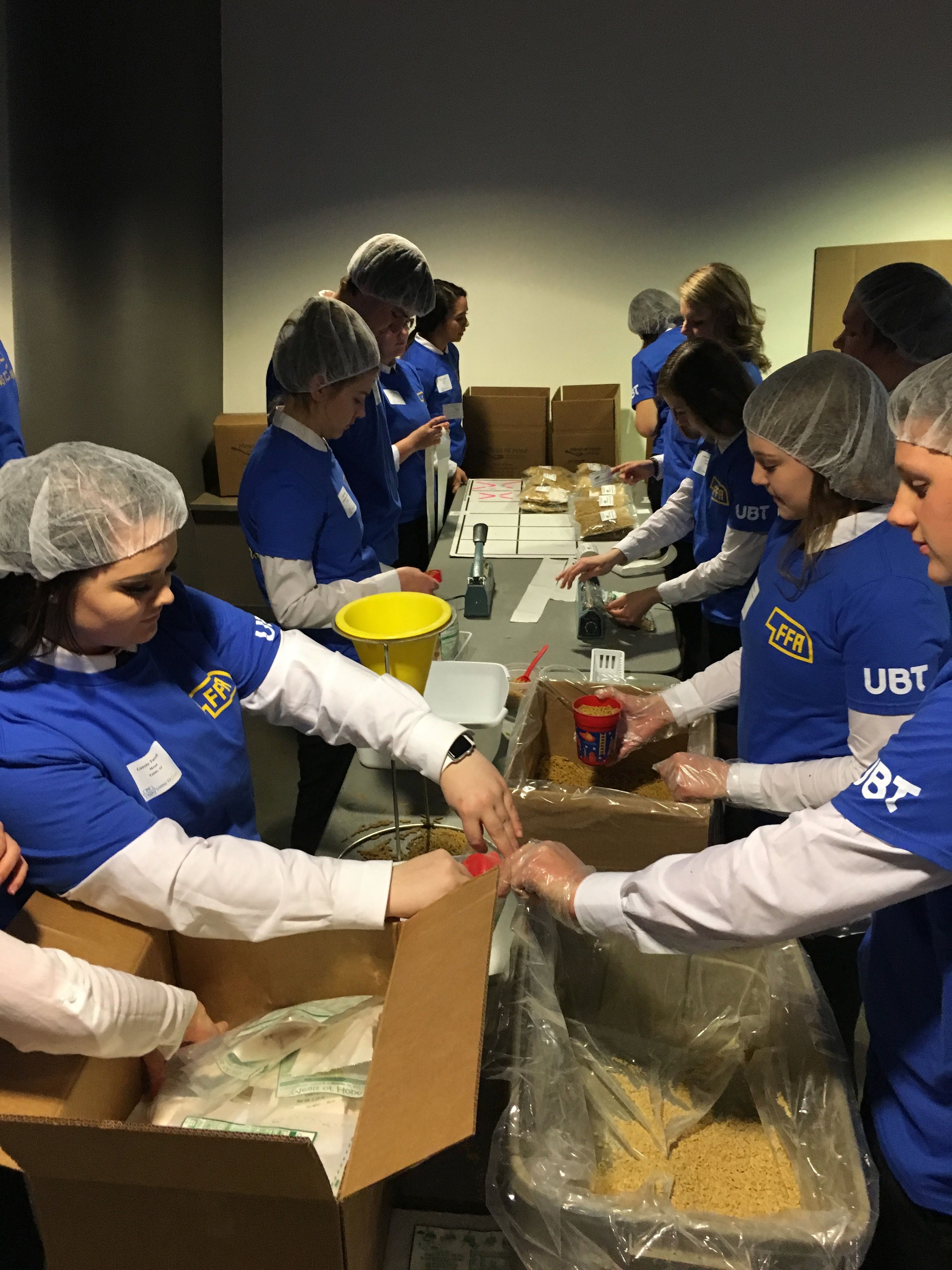 (LINCOLN) – Nebraska FFA members and Union Bank & Trust (UBT) volunteers spent Friday morning packing 50,000 meals for local food banks.
The event, held during the 90th Nebraska FFA State Convention, gave members the opportunity to learn more about serving their communities. The 360 FFA members packed macaroni and cheese for the Food Bank of Lincoln, which serves southeast Nebraska, and Food Bank for the Heartland, which serves greater Nebraska and southwest Iowa.
UBT served as the True Blue title partner for this program. Glenn Baumert, First Vice President, Ag Loans, said, "we were honored to partner with the Nebraska FFA Foundation to host an event that added value to the Nebraska FFA State Convention. It was an event that promoted service to our youth and gave back to those in need right here in our state. It was very gratifying to see the enthusiasm and passion displayed by the FFA students."
Scott Young, Food Bank of Lincoln Executive Director says, "We are grateful to the FFA for investing time and energy into feeding their neighbors in Southeast Nebraska. The 25,000 meals these young leaders are packing that will end up at the Food Bank will put a meal on the table of 34 households made up of a single parent and a child a meal a day for a full year. FFA will have a terrific impact on the community while they are meeting in Lincoln, and for the coming weeks and months."