Welcome to the Nebraska FFA Foundation website!
The Nebraska FFA Foundation exists to enhance quality education/FFA programs in order to achieve excellence in leadership development, curriculum innovation and scholastic advancement of students. With your help we can make a difference. Our full website furthers our mission by providing ways for you to learn more and get involved. Thanks for visiting. For more information, contact us or visit our full website.
2018 Nebraska FFA State Convention Results
Posted by FFA Foundation on 05/01/2018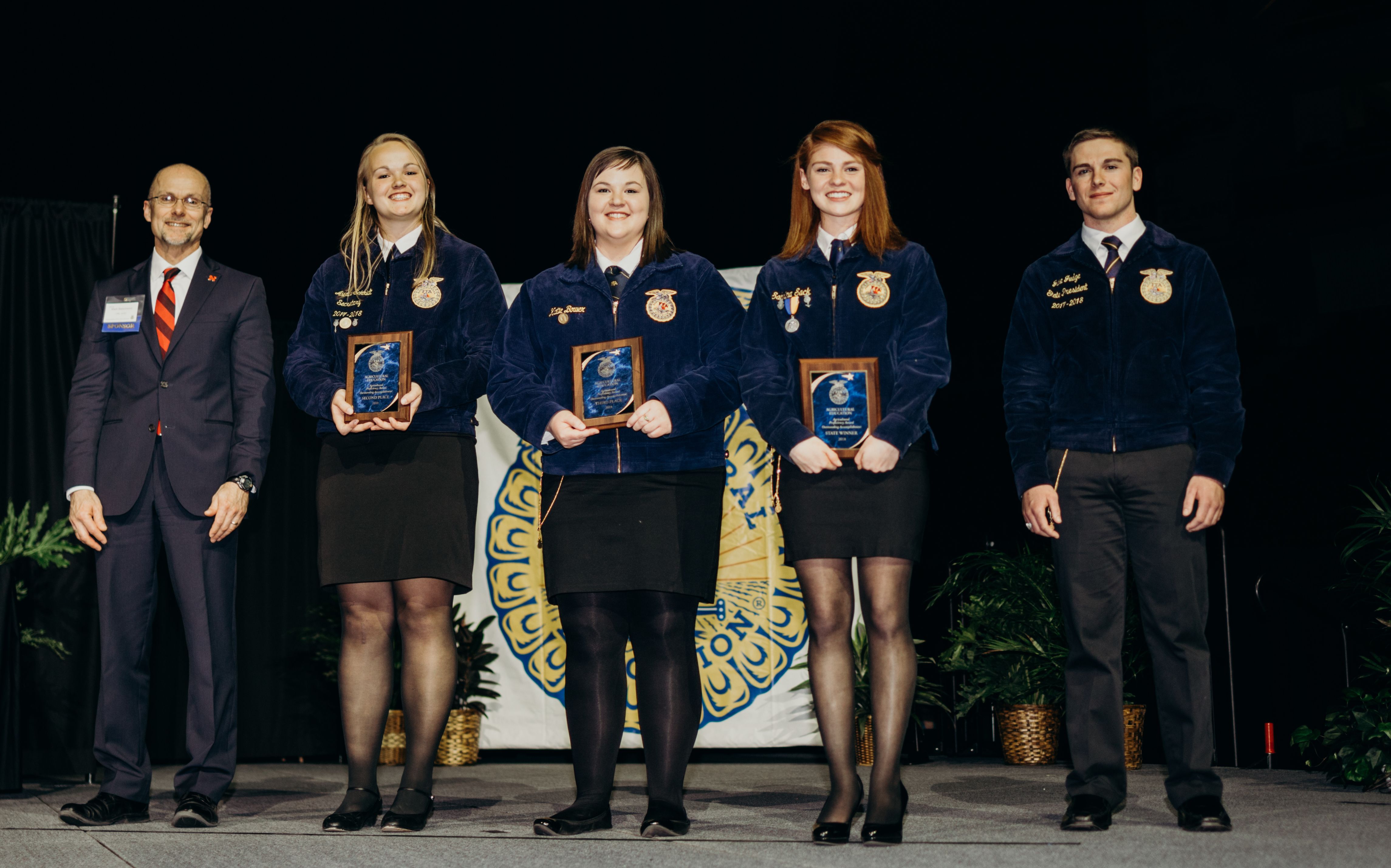 The 90th Nebraska FFA State Convention on April 4-6 had around 7,000 FFA members and guests present! Congratulations to all FFA members, and thank you sponsors, donors and volunteers for your support of State Convention and Nebraska FFA.
Here are some highlights of this year's convention:
This year 640 State Degree's were presented during State Convention.
10 FFA chapters were recognized on stage for the "I Believe in the Future of Ag" campaign. The top schools to participate through "I Believe" were: O'Neill FFA (1st), Shelby-Rising City FFA (2nd), West Holt FFA (3rd), Elgin FFA, McCool Junction FFA, Heartland FFA, Central FFA, Litchfield FFA, Oakland-Craig FFA and Ravenna FFA. This year we had 18 corporate sponsors provide $35,000 in matching funds and educational campaign materials.
The Gary Scharf Helping Hand Award was presented to Dana Anderson. He is the FFA advisor for the Aurora FFA chapter. Dana was nominated for the award with support by colleagues, past students, parents and school administration.
This year, 23 new agricultural teachers and FFA advisors were recognized during convention.
New to convention, Nebraska FFA members and Union Bank and Trust volunteers packed 50,000 meals for local food banks.
Click here to view other convention results.