Welcome to the Nebraska FFA Foundation website!
The Nebraska FFA Foundation exists to enhance quality education/FFA programs in order to achieve excellence in leadership development, curriculum innovation and scholastic advancement of students. With your help we can make a difference. Our full website furthers our mission by providing ways for you to learn more and get involved. Thanks for visiting. For more information, contact us or visit our full website.
Plainview FFA Chapter's I Believe Banquet
Posted by Victoria Broders on 09/26/2018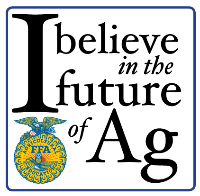 September marks the official start of the eighth annual I Believe in the Future of Ag fundraising campaign. This campaign serves as an outlet for local FFA chapters to raise money for innovative projects in their classrooms, leadership programming, community service projects and field trips to advance agriculture education in their schools.
The Plainview FFA chapter used the I Believe in the Future of Ag campaign as a great way to fundraise for their chapter through a banquet and mailing. Last April, the Plainview FFA Advisor requested over 500 I Believe in the Future of Ag donation cards. He sent them out with an invitation to supporters inviting them to their I Believe banquet. The Plainview FFA chapter plans to use the I Believe in the Future of Ag donations for leadership training programs and for new or upgraded equipment for the shop.
Every chapter in Nebraska can receive donations through the I Believe program. You can donate on our website or contact your local FFA advisor.
This year's I Believe campaign ends February 28, 2019.