Welcome to the Nebraska FFA Foundation website!
The Nebraska FFA Foundation exists to enhance quality education/FFA programs in order to achieve excellence in leadership development, curriculum innovation and scholastic advancement of students. With your help we can make a difference. Our full website furthers our mission by providing ways for you to learn more and get involved. Thanks for visiting. For more information, contact us or visit our full website.
Nebraska FFA Celebrates Success at National FFA Convention
Posted by Sarah Mullen on 11/14/2019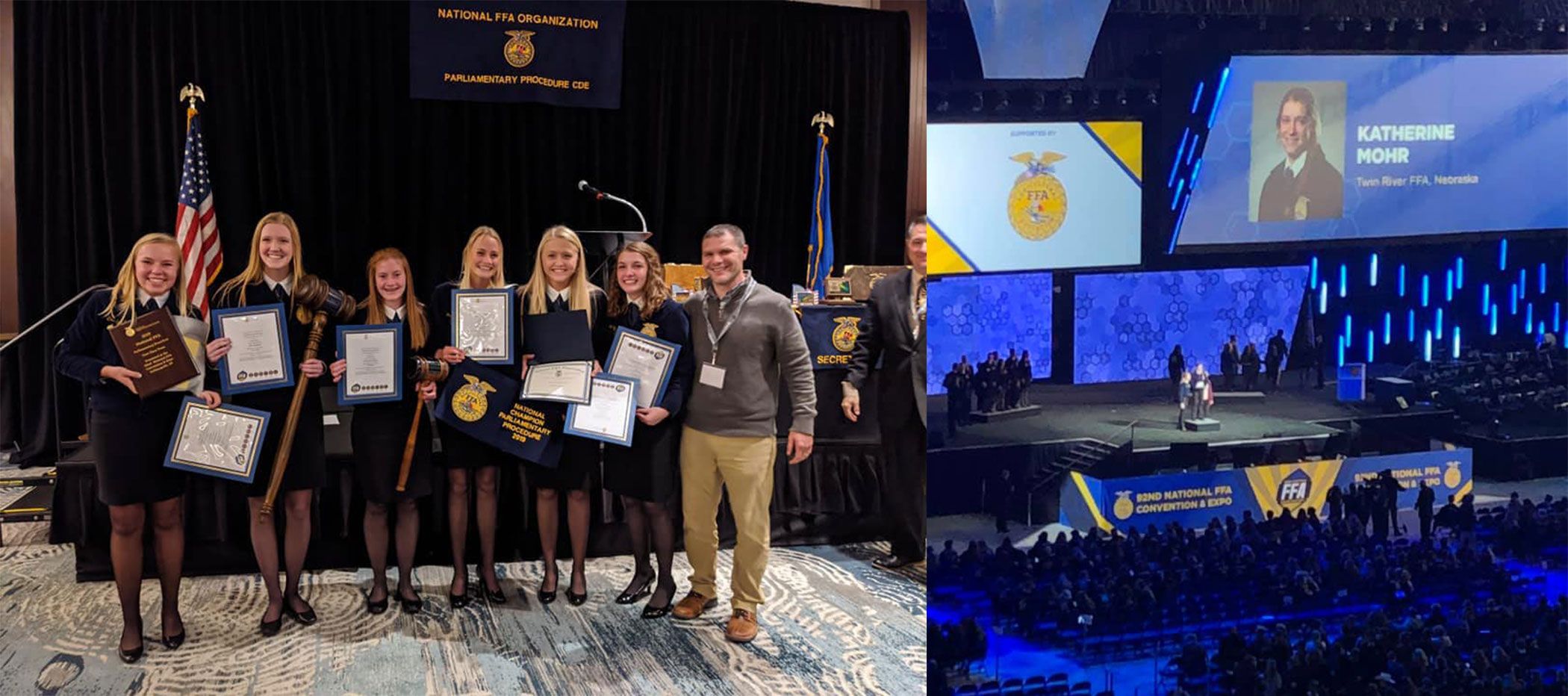 We are so proud of the many Nebraska FFA members that worked hard all year to prepare for competitive events at the 2019 National FFA Convention. Below is a listing of those teams and individuals who won or received gold medals. Please join us in celebrating all students who participated in these events.
Star Awards
American Star Farmer Top 4 - Garret Talcott, Palmyra FFA
Proficiency Awards
Veterinary Science – Entrepreneurship/Placement National Winner - Katherine Mohr, Twin River FFA
Leadership Development Events
Conduct of Chapter Meetings Gold – Stuart FFA
Parliamentary Procedure National Winner - Imperial FFA (Valerie Herbert, Brooklyn Christensen, Jozie Schilke, Lindsey Mendenhall, Courtney Odens, Alexis Richmond)
Career Development Events
Agriculture Communications Gold Individual – Marcus Spotanski, Stanton FFA
Environmental & Natural Resources Gold Individual – Noah Thede, St. Paul FFA
Horse Evaluation Gold Individual – Sadie Smutny, Elkhorn Valley FFA
Meats Evaluation and Technology Gold (5th place) Team – Eustis-Farnam FFA (Georgia Ray, Amber Lange & Zeb Knackstedt)
Meats Evaluation and Technology Gold Individual – Georgia Ray, Eustis-Farnam FFA
Meats Evaluation and Technology Gold Individual – Amber Lange, Eustis-Farnam FFA
Meats Evaluation and Technology Gold Individual – Zeb Knackstedt, Eustis-Farnam FFA
Veterinary Science Gold Team – Ogallala FFA (Kendra Godina, Makenna Eisenzimmer, Tanner Ostrander, Tyler Perrin)
Veterinary Science Gold (7th place) – Kendra Godina, Ogallala FFA
Ag Sales Gold Team (6th place) – Hayes Center (Jaycee Lapp, Ethan Broker, Ashton Erickson, Jakob Anderjaska)
Agriscience Fair
Environmental Services/Natural Resources IV Gold – West Holt FFA (Jordyn Laible & Taylor Schaaf)
Power, Structural and Technical Systems II Gold – Syracuse FFA (Cody Damme & Lucas Harden)