Welcome to the Nebraska FFA Foundation website!
The Nebraska FFA Foundation exists to enhance quality education/FFA programs in order to achieve excellence in leadership development, curriculum innovation and scholastic advancement of students. With your help we can make a difference. Our full website furthers our mission by providing ways for you to learn more and get involved. Thanks for visiting. For more information, contact us or visit our full website.
276 Blue Jackets. Bright Futures. Recipients Selected
Posted by Sarah Mullen on 10/12/2020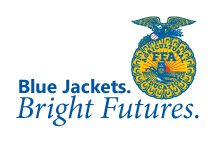 On October 2, 21 supporters joined together to select the recipients of this year's Blue Jackets. Bright Futures. program. Over 600 FFA members from across the state applied this year.
This program's goal is to provide deserving FFA members with a free FFA jacket and tie or scarf. Students must fill out an application and advisors also submit a statement on each individual for the committee to review.  Thanks to the generous support of our donors, we were able to award 276 deserving FFA members with a new FFA jacket and tie or scarf. FFA Advisors have been notified the results of their students and students will receive a gift card to purchase their personalized FFA jacket and tie or scarf.
Thank you to all our jacket donors, and congratulations to all 276 jacket recipients!