Welcome to the Nebraska FFA Foundation website!
The Nebraska FFA Foundation exists to enhance quality education/FFA programs in order to achieve excellence in leadership development, curriculum innovation and scholastic advancement of students. With your help we can make a difference. Our full website furthers our mission by providing ways for you to learn more and get involved. Thanks for visiting. For more information, contact us or visit our full website.
Gering FFA Participates in the I Believe in the Future of Ag Program
Posted by Victoria Broders on 11/09/2020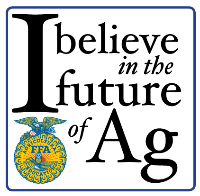 This is the first year Gering has FFA at their school! As a chapter they have been able to have a few chapter meetings, install their chapter officers and prepare for their first district Leadership Development Event competition. 
As a new chapter, they are utilizing the I Believe in the Future of Ag campaign to receive donations from local donors. They plan to use the donations to cover the costs of attending FFA competitions, FFA leadership conferences and Nebraska FFA State Convention. 
Donors to the I Believe in the Future of Ag campaign choose which chapter they support. One hundred percent of each local donation will be sent back to the designated chapter at the end of the campaign and a portion of the $35,000 challenge matching pool will be distributed to participating chapters. 
To donate to a local FFA chapter like Gering contact your local FFA advisor or click here.