Welcome to the Nebraska FFA Foundation website!
The Nebraska FFA Foundation exists to enhance quality education/FFA programs in order to achieve excellence in leadership development, curriculum innovation and scholastic advancement of students. With your help we can make a difference. Our full website furthers our mission by providing ways for you to learn more and get involved. Thanks for visiting. For more information, contact us or visit our full website.
Nearly $80,000 Awarded in Nebraska FFA Foundation Grant Program
Posted by Victoria Broders on 09/14/2021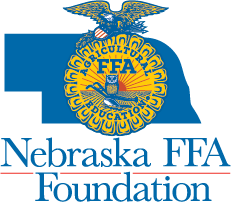 Twenty-four Nebraska FFA chapters or FFA members were awarded funds through the Nebraska FFA Foundation grant program with nearly $80,000 awarded in total in grant funding.
This grant program, in its fifth year, supports Nebraska agricultural education classrooms, FFA programs and individual student entrepreneurship Supervised Agricultural Experiences. Each year, funds are provided by the Nebraska FFA Foundation and its general fund donors. Many other generous supporters partnered this year and are listed below.
"Our board worked many years to develop sustainable funding to provide this program. The Board knew there were many programs in need of financial support to develop career-ready students in agriculture, and awarding nearly $80,000 will give students in these schools some of the resources necessary to reach their full potential," said Stacey Agnew, Nebraska FFA Foundation Executive Director.
Many of these grant recipients will be showcased on the Nebraska FFA Foundation website and social media throughout the next couple years. Applications for the 2022 Nebraska FFA Foundation Grant Program will open in April.
---
Nebraska FFA Foundation Grant Recipients:
FFA Chapters and agricultural education classrooms:
Aurora Agricultural Department Animal Lab 
Hampton Animal Lab aka the Hawk Herd Expansion 
Pleasanton Agriculture Program New Curriculum 
Stanton CDE Preparation 
Valentine Food Science Lab 
Sidney Greenhouse 
Boyd County Classroom Aquaponics System 
Madison Dragonfire Popcorn and Pumpkins 
Falls City Ironworker 
Johnson County Central Welding Updates 
McCool Junction Cutting Solutions Spitfire 
Norris Turning Up the Small Engine Curriculum 
Sumner-Eddyville-Miller Power and Structural Tech Class
FFA members:
Ellie Wanek, Aurora FFA Member, Ellie's Llamas 
Jacob Wood, Palmyra FFA Member, Wood Farm's Cow/Calf Operation 
Caraline Higgins, Crete FFA Member, Beekeeping 
Elizabeth Luther, Nebraska City FFA Member, Rock Creek Honey 
Haily Scaaf, Chambers FFA Member, Village Green Hand 
Samuel Russell, Southern Valley FFA Member, Pumpkin Corners Pumpkin Patch 
Jayna Guggenmos, Wheeler Central FFA Member, Chinchilla Production-Specialty Animal 
Jack Kreifels, Syracuse FFA Member, Sweet Corn  Production and Sales 
Caleb Heck, Gordon-Rushville FFA Member, Trailer for Mowing Business 
Bailey Hall, McCool Junction FFA Member, Blue River Corgis 
Rylee and Peyton Hofmann, High Plains FFA Members, Genetic Improvement of Goat Herd 
---
Badertscher Endowment Grant:
Trevor Johnson, Tractor Restoration Entrepreneurship, Tri County FFA
---
Cooperative Producers, Inc. Grant:
Thayer Central FFA Animal Lab
Deshler Greenhouse
Minden FFA Chapter Garden
Franklin Welding Ventilation Replacement
McCool Junction Lone Star Cutting Solutions Spitfire
---
Central Valley Ag Grant:
High Plains Livestock Learning Lab - Livestock Trailer Purchase
Bloomfield Greenhouse
Valentine Food Science Lab
---
Union Bank and Trust Grant:
Palmer FFA Livestock Project
Norfolk Catch It System
The Career Academy (Lincoln) Let it Grow - Greenhouse Vegetable Production
---
Farmers Mutual of Nebraska Grant:
Pender Modernization of Greenhouse Lighting with Smart and LED Technology
Osceola School Farm
---
Farmers Cooperative Grant:
McCool Junction Lone Star Cutting Solutions Spitfire
---
Constellation Energy Grant:
Caleb Heck, Gordon-Rushville FFA Member, Trailer for Mowing Business
Isabella Klein, Cozad FFA Member, Bella Klein Enterprises
Samuel Russell, Southern Valley FFA Member, Pumpkin Corners Pumpkin Patch
Caraline Higgins, Crete FFA Member, Beekeeping
Rachel Kuss, Seward FFA Member, Homemade Desserts and Desserts in a Jar
Franklin Welding Ventillation Replacement
Hampton Animal Lab aka the "Hawk Herd" Expansion
McCool Junction Lone Star Cutting Solutions Spitfire
Sumner Eddyville Miller Power and Structural Tech Class
Palmer FFA Livestock Project