Welcome to the Nebraska FFA Foundation website!
The Nebraska FFA Foundation exists to enhance quality education/FFA programs in order to achieve excellence in leadership development, curriculum innovation and scholastic advancement of students. With your help we can make a difference. Our full website furthers our mission by providing ways for you to learn more and get involved. Thanks for visiting. For more information, contact us or visit our full website.
Student Successes at National FFA Convention
Posted by Sarah Mullen on 11/03/2021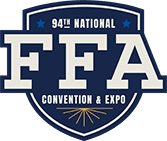 Nebraska FFA members loaded the bus last week and headed to Indianapolis. Members toured many attractions along the way, attended general sessions, and participated in competitive events. Here are a few highlights of the results for Nebraska FFA members:
Grady Johnson, Holdrege FFA, received the American Star Farmer Award.
Tyler Tegtmeier and Hayden Binder, Pawnee City FFA, received first place in the Agriscience Fair Plant Systems - Division 2.
Zackery Halloway and Lucas Bell, Broken Bow FFA, received second place in the Power, Structural, and Technical Systems - Division 6.
Ethan Uhlir, St. Paul FFA, received a gold in the Outdoor Recreation Entrepreneurship/Placement Proficiency area.
Alliance FFA Livestock Evaluation team received seventh place.
Eustis-Farnam FFA Food Science team received fourth place and Natalie Malcom received sixth place individual.
Eurstis-Farnam FFA Agronomy team received sixth place.
Imperial FFA Parliamentary Procedure team received second place.
Erin Oldermeyer, Norris FFA, received sixth place individual in Horse Evaluation.
Spencer Walahoski, SEM FFA, received seventh place individual in Meat Science.
St. Paul Environmental and Natural Resources team received seventh place. Sam Thede received fifth place individually in the event.
Jordyn Laible, West Holf FFA, received sixth place in the Ag Communications event.
140 Nebraska FFA members received their American FFA Degree.
For a full list of Nebraska results, click here.