Welcome to the Nebraska FFA Foundation website!
The Nebraska FFA Foundation exists to enhance quality education/FFA programs in order to achieve excellence in leadership development, curriculum innovation and scholastic advancement of students. With your help we can make a difference. Our full website furthers our mission by providing ways for you to learn more and get involved. Thanks for visiting. For more information, contact us or visit our full website.
Taking Initiative: Morgan's Mums & More!
Posted by FFA Foundation on 09/08/2022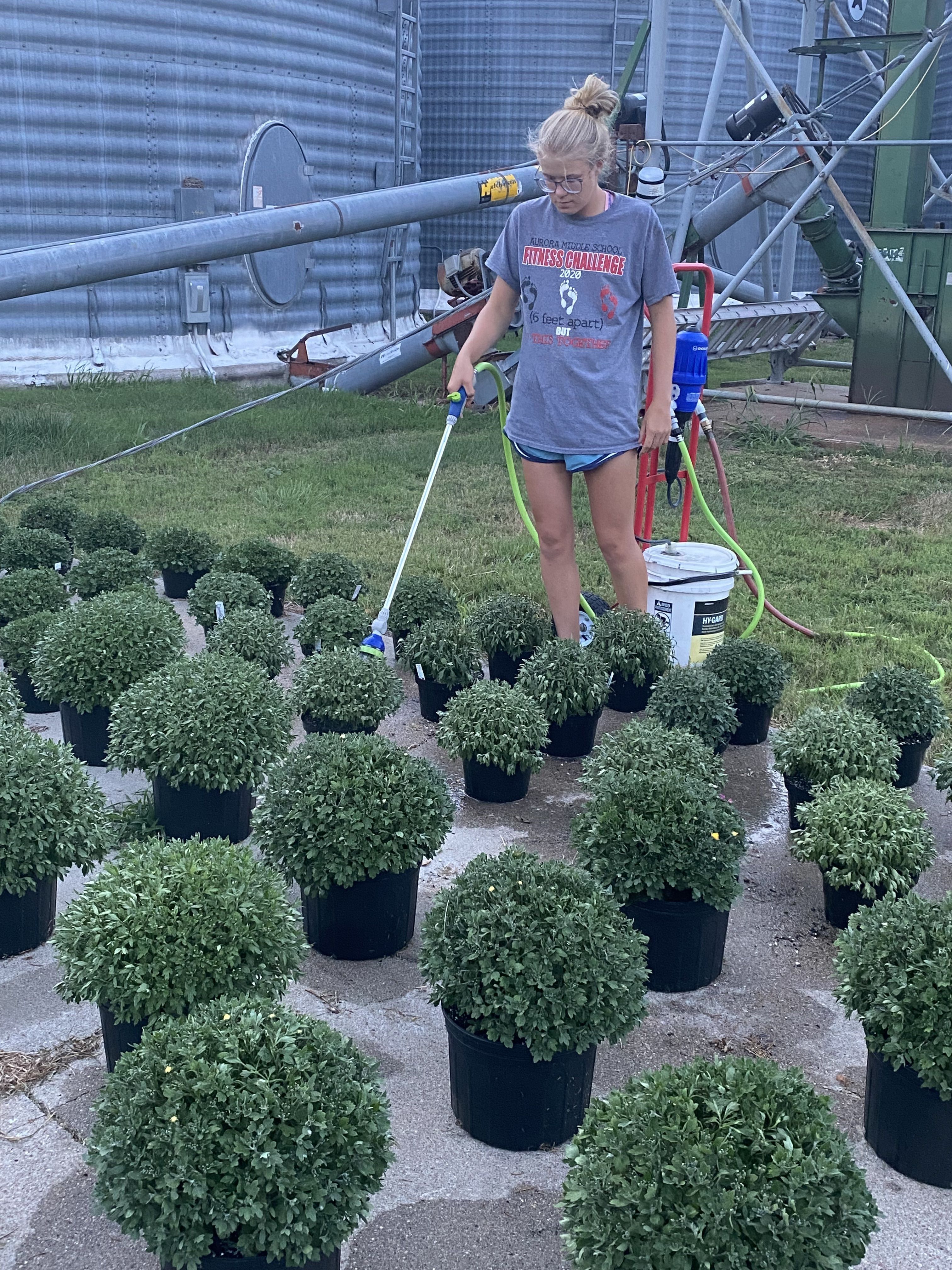 When COVID-19 hit at the end of Morgan Bonifas' eighth-grade year she had two options- she could spend her time outside of zoom-class scrolling through social media like many other kids her age or she could take some initiative. The Aurora FFA member decided on the latter and started brainstorming ideas for her supervised agricultural experience (SAE).
Morgan has always enjoyed working with flowers and knew she wanted to incorporate them into her SAE. In her free time, she researched some different plant options. With advice from a local greenhouse owner, Morgan was able to figure out the amount of space and which supplies she would need to get started. Before she knew it, Morgan's Mums & More! was born.
"Once I received the mums it was just a matter of planting, watering, and keeping the plants alive until the fall when I sold them at the pumpkin stand that my brother and I own," explained Morgan. In her first year, Morgan grew roughly 60 pots with three different mum varieties on a cement slab on her family's farm. In her second year of business, Morgan decided to apply for the Nebraska FFA Foundation's local grant program, a program that supports FFA chapters, agriculture classrooms and individual student SAE projects. Morgan received a grant and was able to purchase the more expensive items she had been hoping to acquire.
"I was able to buy a portable fertilizer system that helps me be more precise in my fertilizer application. This has helped me raise higher-quality mums. By having this for my 2nd year of growing I saw a huge impact on the plant size and health."
Now, in her third year of production, Morgan's Mums & More! has nearly tripled in size. The soon-to-be junior is planning to grow 150 pots with six different varieties of mums. Morgan attributes her success to the initiative and experiences she's found in FFA. "Public speaking contests, as well as the record keeping skills I have gained from my Ag Experience Tracker record book, have helped me to run a successful business that keeps customers coming back."
This fall Morgan will be selling my mums at Kountry Kids Pumpkins, the pumpkin stand that she and her brother own. She is planning to have three different varieties of multicolor mum pots as well as white, orange, and purple mums. For each variety, she will have both 8-inch (small) and 10-inch (large) pots. The pumpkin stand is open every Saturday and Sunday starting in the middle of September running through the end of October. Morgan also plans on adding a new plant to her list. She is growing poinsettias for this fall/winter.