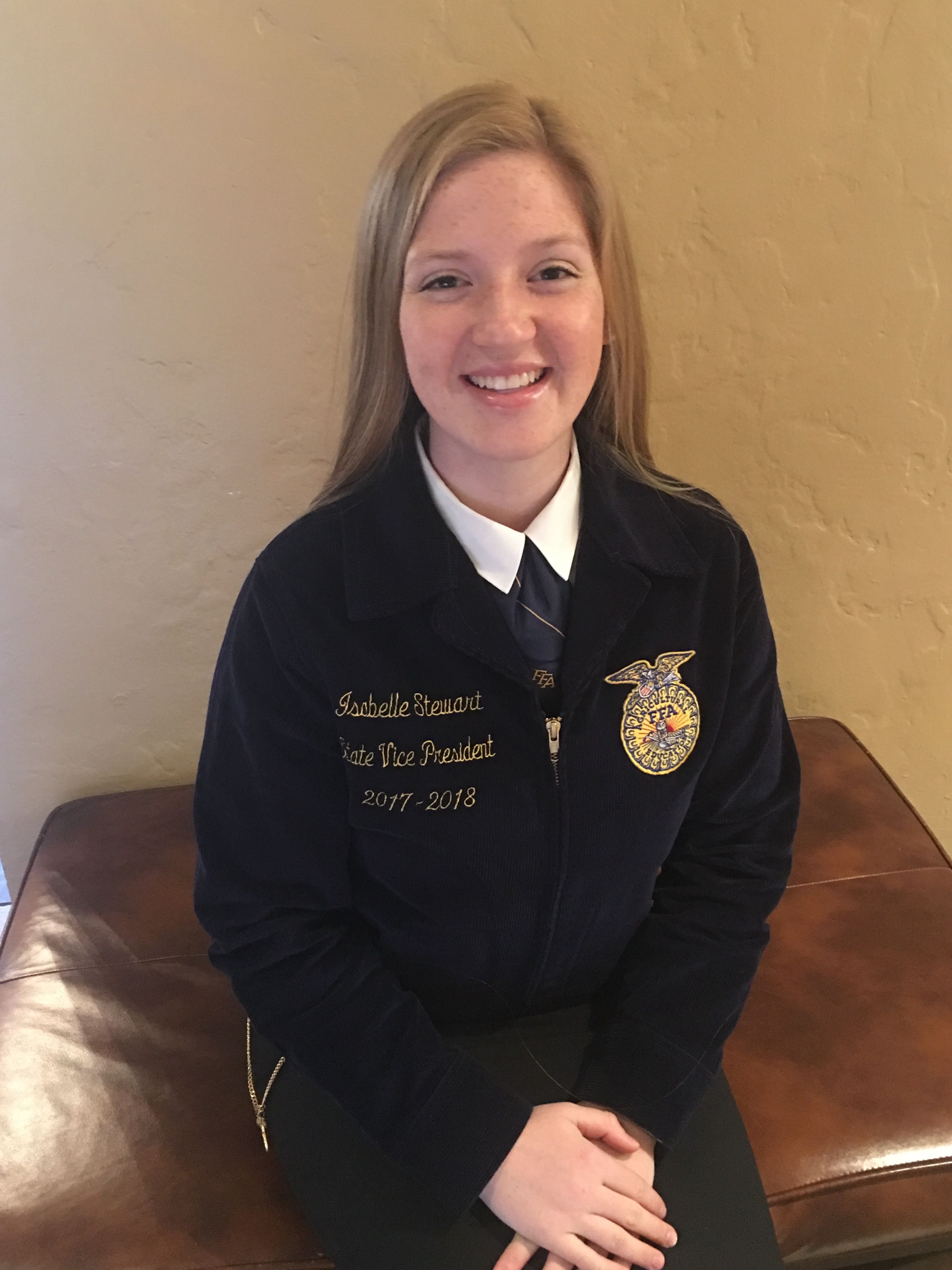 Isabelle Stewart is a 2017-18 Nebraska State FFA Vice President. She is the third in our series of showcasing the Nebraska State Officer Team.
Isabelle is from Columbus and was part of the Lakeview FFA Chapter. She is now at University of Nebraska-Lincoln majoring in agricultural education. So far in college she has become involved in Sigma Alpha professional sorority and the UNL Agricultural Education club.
She grew up in town, but her dad farms. Isabelle has had the opportunity to grow up working with cattle, pigs and border collies along with the grain production side, such as; soybeans, corn and grain sorghum. She has three different Supervised Agricultural Experiences (SAE). Her main SAE was working on her family's farm with their farrow to finish swine operation. She was able to work in all aspects of the operation. Her second SAE was working at the City of Columbus-Aquatics Department at the Pawnee Plunge and the Columbus Aquatic Center as a lifeguard, supervisor and water safety instructor through the American Red Cross Whale Tales program. Her third SAE was in Agricultural Education where she would teach kindergarteners at Lakeview about agriculture. She also helped with a Kindergarten Farm Fun Day that hosted over 500 kindergarteners to visit a local farm.
Isabelle doesn't have one favorite experience as a State Officer, but her top three so far would be Chapter Officer Leadership Training (COLT), NPower Conference and business and industry visits. She said, "Personally, I loved business and industry tours because I learned so much about agriculture in Nebraska that I did not know about, and career and personal development opportunities that I can share with members."
"It has been really cool to be able to serve the organization that has helped me to reach my goals and inspire my future career goals," said Isabelle.