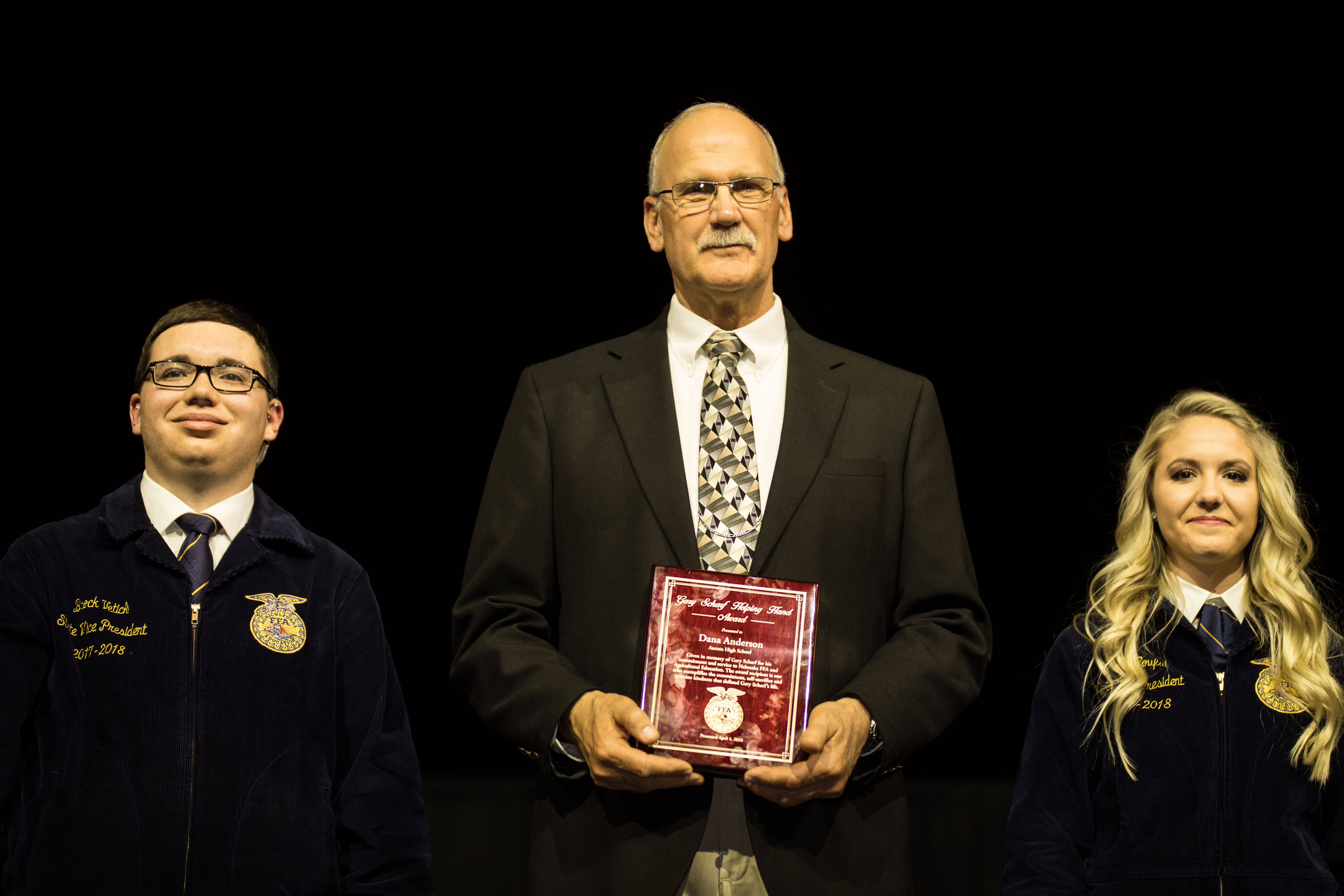 (LINCOLN) – The Nebraska FFA Foundation presented Mr. Dana Anderson, Aurora FFA advisor, with the 2018 Gary Scharf Helping Hand Award at the Nebraska FFA Convention on Thursday, April 5.
Dana Anderson, FFA advisor for the Aurora FFA chapter, was nominated for the award with support by colleagues, past students, parents and school administration. Barb Bonifas, whom nominated Anderson shared an example following the death of a student and FFA member in a motor vehicle accident. "While Mr. Anderson was grieving himself, he made sure that his students were taken care of. Mr. Anderson spent many hours meeting with students celebrating this student's life as well as modeling how to walk through grief. He took his students under his care and loved them through a very hard time in their lives."
Other nominations also cited the volunteerism that Anderson shows in the community through his handiwork. Bonifas says, "Walking across our campus, I can spot Mr. Anderson's handy work in many places…Everyone has come to count on his talents, whether it is building new soccer goals, developing a new welcome sign for the high school or building new chair racks. Mr. Anderson not only builds what he is asked but does so in a first-class fashion."
The Gary Scharf Helping Hand Award recognizes a Nebraska agriculture teacher or FFA advisor for what he or she has done in helping others, specifically in the school and community, outside of agriculture education and FFA. Anderson was announced as the award winner during the Nebraska FFA State Convention in Lincoln. He received a plaque and $500 cash award from the Nebraska FFA Foundation.
"The Foundation Board is honored to present this award to Mr. Anderson today. He exemplifies many qualities that defined Gary Scharf's life – commitment, self-sacrifice and genuine kindness," says Stacey Agnew, Executive Director, Nebraska FFA Foundation.
The annual award is named for Gary Scharf, who was a victim of an Omaha mall shooting in December 2007. Scharf grew up on a family farm outside of Curtis, Nebraska and worked in the agricultural chemical industry. He made a significant contribution to Nebraska's agricultural and FFA community through his years of service on the Nebraska FFA Foundation Board, including a year as Board President in 2002-2003.