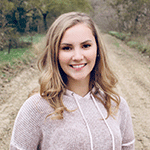 The Nebraska FFA Foundation is excited to add Abby Steffen to the team.
Abby serves as the new Development Coordinator. She will graduate in May with a bachelor's degree in Agricultural and Environmental Sciences Communication and a minor in Leadership and Communication from the University of Nebraska–Lincoln. Abby is an alum of the Crofton FFA chapter. She has worked as an Ambassador for UNL's Agricultural Leadership Education and Communication department and the Ag Sack Lunch Program and held internships in with Yankton County 4-H and the Nebraska Alumni Association.
Abby's responsibilities are to further the Nebraska FFA Foundation by educating and engaging more people in the work we're doing, working with volunteers and connecting supporters with the mission of the Nebraska FFA Foundation.