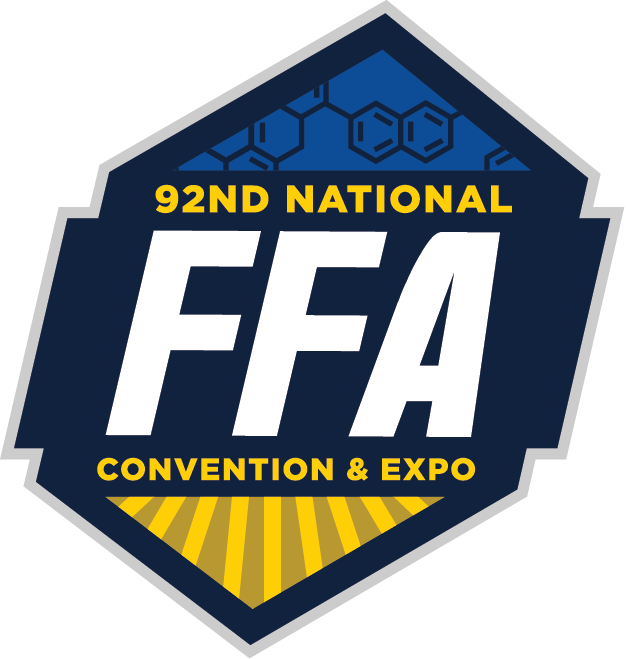 Nebraska FFA members will be participating at National FFA Convention in Indianapolis for the 92nd National Convention on October 30-November 2, 2019. 
Nebraska FFA has many FFA members that have made it to the national level. 
1 American Star Farmer Finalist

Garret Talcott, Palmyra FFA Chapter

9 Agriscience Fair Project Finalists

Jordyn Laible and Taylor Schaaf, West Holt FFA Chapter
Gracie Swanson, Rock County FFA Chapter
Allison Everhart, Adams Central FFA Chapter
Gage Groeteke and Sydney Tisthammer, Boone Central FFA Chapter
Tara Allen, Adams Central FFA Chapter
Cody Damme and Lucas Harden, Syracuse FFA Chapter
Brooklyn Bovill and Blake Japp, Arlington FFA Chapter
Kelcie Hall, Norfolk FFA Chapter
Karter Otte, O'Neill FFA Chapter

4 Proficiency Finalists

Diversified Ag Production: Grady Johnson, Holdrege FFA Chapter
Grain Production-Entrepreneurship: Caden Erickson, Holdrege FFA Chapter
Swine Production-Placement: Melanie Gentrup, Emerson Hubbard FFA Chapter
Veterinary Science: Katherine Mohr, Twin River FFA Chapter

Many Leadership Development Event and Career Development Event teams and members competing
Starting October 18, we will spotlight some of the members competing at National Convention on our social media. Watch each morning to see which members are spotlighted on what their project is and what they have learned. 
Congratulations and good luck to all Nebraska FFA members and chapters on your accomplishments from hard work and dedication! 
You can view the National FFA Convention schedule on the convention website: https://convention.ffa.org/. 
How to watch convention: https://www.ffa.org/92nd-national-ffa-convention-expo/5-ways-to-participate-in-the-national-ffa-convention-expo-remotely/