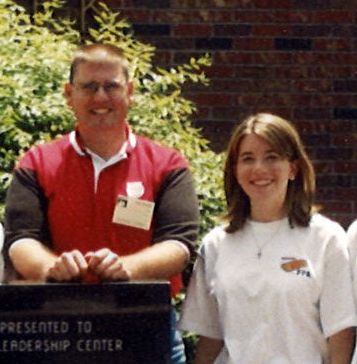 Each year, FFA chapters around the country celebrate National FFA Week. It's a time to share what FFA is and the impact it has on members every day. National FFA Week gives us a chance to reflect each year on why agricultural education is important and why it's crucial that the legacy of FFA lives on.
I grew up in Elgin, Nebraska. I was a town kid and took agriculture classes and joined FFA because my brothers did. After some persistence from my agriculture teachers, first Seth Derner and then Phil Simpson (pictured with me at Chapter Officer Leadership Training), I learned that I didn't need to always follow my brothers' footsteps, but I could be a leader. They encouraged me to step outside my comfort zone and find my voice. I became passionate about agriculture through my agricultural education classes and experiences in Career Development Events. I also became passionate about growing leaders out of younger generations of FFA members and why I'm proud to support young people in agriculture today.
Now it's your turn to share your story. You'll see Nebraska FFA Foundation staff sharing snippets of how FFA had an impact on their life over the next week on social media. I hope you'll do the same.