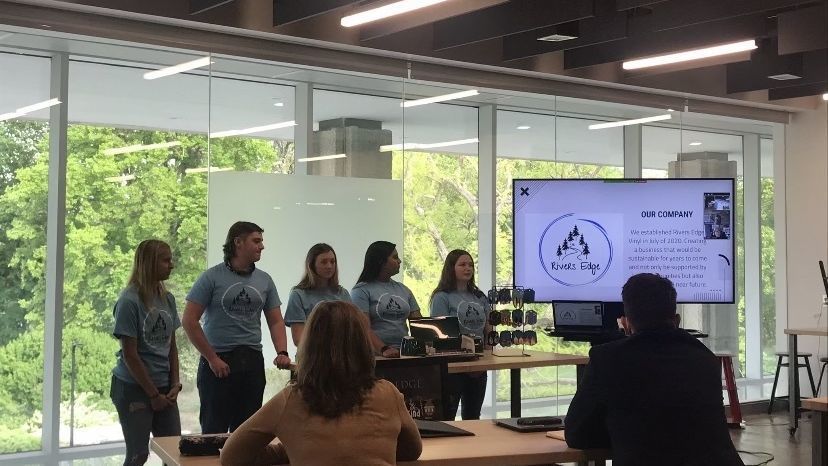 Jaiden Tweton said the things she's learned the most have been how a business worked. "It's a lot of work behind the scenes and I've learned to work with different people with different ideas."
Tweton, pictured third from left above, just graduated from Ashland-Greenwood High School. She was part of a group of five students that started River's Edge Vinyl. The five students started this school-based enterprise in 2020, as part of the Launch! program.
Their company makes car decals, ear tags, Christmas ornaments, stockings, T-shirts, personalized cups, and even earrings, which they sell at a local boutique. The business idea started in Fall of 2020. Tweton and her fellow students attended their first Launch! program in February 2020, where they learned an overview of starting a business and began to explore options for the business. She said their first idea was a coffee cart, but when the covid-19 pandemic hit, they knew it wouldn't work for them.
The students had to work with an outside lawyer and start up their own accounts at the bank to get the business running. She said each of them had their own roles in finances, marketing, production, etc, and had weekly meetings, but in the end they had to help each other out to make sure everything got done and everyone was held accountable.
As for what happens since Tweton and two others have graduated, she said students applied to be part of the school-based enterprise and a couple new students will step in to keep the business running within the school.
To learn more about River's Edge Vinyl, you can visit their Facebook page at
www.facebook.com/riversedgevinyl.