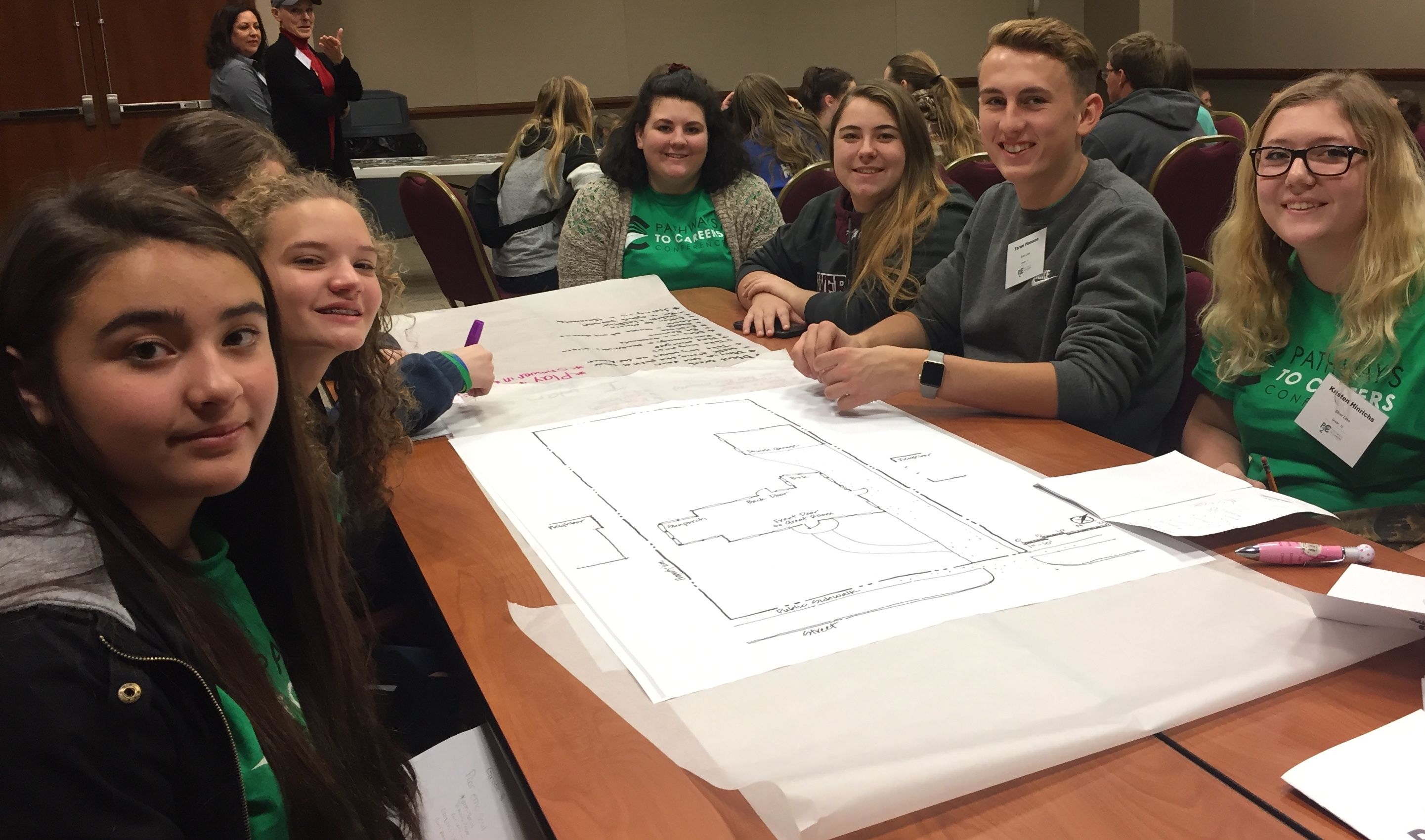 Nebraska FFA is excited to host the annual Pathways to Careers Conference (P2C) on Saturday, November 13, 2021. The event will be in-person at the Younes Conference Center in Kearney.
P2C is designed for FFA members to explore career opportunities in agriculture. One of the most impactful ways for members to learn about and understand potential careers is from business and industry professionals! We know there is a continued need for qualified and skilled young people in Nebraska agriculture, and we invite you to join us at P2C to encourage young people to pursue an agricultural career.
During the conference, students will work with our Nebraska FFA State Officer team to understand the importance of career readiness and build their breakout session schedule. They will also hear from a keynote speaker about the importance of responsibility and resilience within their chosen career path.
Students will experience four, 45-minute sessions that are facilitated by industry partners, representing the Agricultural Food and Natural Resources career fields. We expect approximately 400 students to attend, and we need approximately 40 presenters. We hope you will volunteer to be one of them!
Here are a few points that may be helpful as you plan for this opportunity:
The industry portion of the conference will be held on Saturday, November 13th at Younes Conference Center in Kearney.
We hope you and/or others in your company/organization will join us and offer two 45‑minute hands-on, educational sessions for students interested in your sector of the industry. The sessions should be the same content, and will be offered back-to-back.
The session times will be:

Morning – Session 1 from 9:30-10:15 am and Session 2 from 10:30-11:15 am
Afternoon – Session 3 from 12:45 -1:30 pm and Session 4 from 1:45-2:30 pm

We're asking industry professionals to think about your work, choose a skill(s) you do, and then engage students in learning that skill(s). Some examples might be, vaccination techniques, visual marketing design, plant grafting, welding methods, sales conversations and techniques, use of new industry-specific tools, business management methods, interview best practices, and so much more!
Each session will include between 1 and 50 students.
We will have space blocked outside the conference center if you would like to bring a trailer that would provide a more enriched, hands-on experience for students.
The goal for students who attend P2C is that they leave each session of the conference with a tangible skill – specific to your profession or industry – that they can demonstrate to others. We want students to leave the conference with excitement to be employed within the agriculture industry.
Please complete the form located here by Monday, October 18th to indicate your availability to present at P2C Conference. Nebraska FFA Association staff will provide additional details and information once presenters are confirmed.