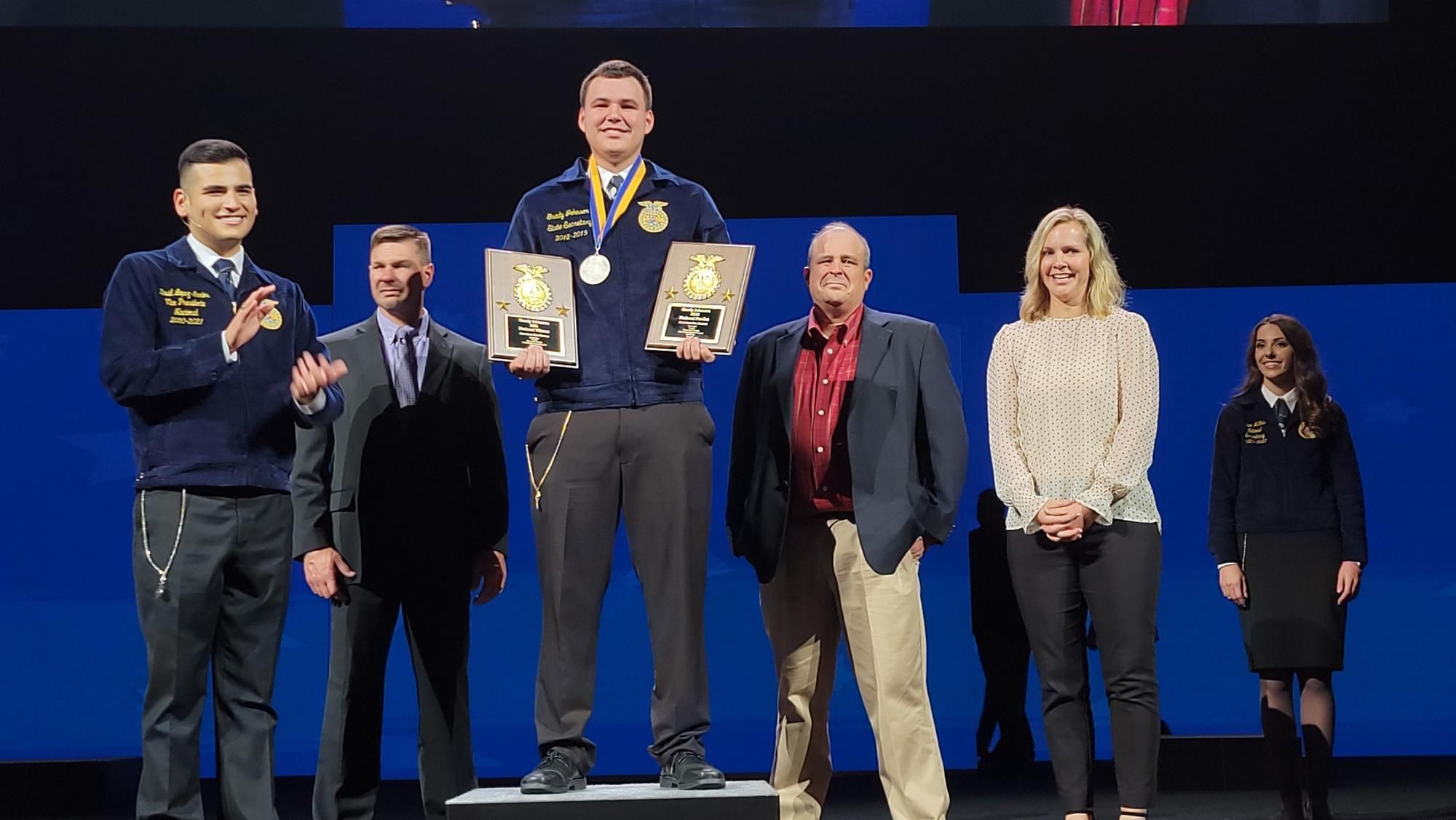 Grady Johnson's love of farming started as soon as he could walk. He credits his family's operation for allowing him to learn and be involved at such a young age. Grady grew up near Holdrege, with his dad Blake, mom Holly and two younger brothers, Quinn and Jett. In October 2021, Grady was honored the American Star Farmer because of his dedication in growing his Supervised Agriculture Experience (SAE) in three different areas.
Johnson had been working on the family farm his whole life, but as he grew older he knew he wanted to start his own business. In 2015, he bought feeder lambs and began his sheep production SAE. Johnson liquidated his flock to attend college and fulfill state officer obligations in 2018.
His second SAE is in the area of crop production where he rents irrigated cropland. He manages the day-to-day operations on both his own and his dad's corn and soybean operation. "My main goal has been to increase efficiency," Johnson says. He's begun implementing new technologies such as irrigation probes, precision planting and spraying technology and implementation of variable rate yield. He also oversees interviewing, training and payroll for five employees from South Africa.
Lastly, Johnson expanded his SAE in the area of forage production. He says he saw the need for better residue management as the operation began to grow more continuous corn on corn. He began this SAE in 2018 and has tripled the number of bales contracted in the last three years.
Johnson was named American Star Farmer at the 2021 National FFA Convention. This means he demonstrated the top production agriculture SAE in the nation. Requirements to achieve this award include demonstrating high-level management skills, completing key agricultural education, scholastic and leadership requirements and earning an American FFA Degree, the highest degree awarded in the National FFA Organization.
He says the three things he's learned are the importance of record keeping, the importance of networking with industry professionals and management skills to continue to build his business with his SAEs. He says the ability to compete in public speaking events and make connections with industry professionals across the state and nation from his experiences in FFA have all shaped his future.
Johnson is a senior at the University of Nebraska-Lincoln. He plans to move back to the farming operation upon graduation in May. He credits his Supervised Agricultural Experiences as allowing him to start and build up his operations so he can return home after college.
*This article was originally featured in the 2020-21 Annual Report. To view the full, online report, click here.*