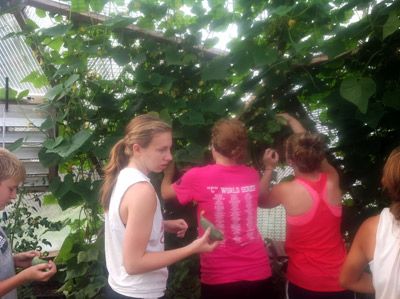 The concept of a growing dome developed while exploring the question of "what's next?" to grow the Freeman Ag Education program, instructor Tony Jensen said.
Freeman High School, located in Adams, decided they needed to take the next step to enhance learning at the high school and elementary levels and a growing dome was just the ticket. The growing dome, with lower costs and taunted more "green" than a traditional greenhouse, was a natural fit to grow the program's involvement in school and in local communities.
To build the growing dome, the FFA chapter had to first find ways to fund the $30,000 project. Jensen says, "The fundraising campaign truly was a community effort and the I Believe in the Future of Ag campaign played a big role in making it happen." He credits the I Believe campaign in helping them spread the word and making people inquire about the project.
The growing dome was constructed in spring 2013 and the produce has been donated to local food banks all summer. Now that school has started Jensen is starting to use it in his high school classes and is starting to develop a mentoring program for elementary classes. His goal is to give elementary and high school students hands-on experience in agriculture and food processing.