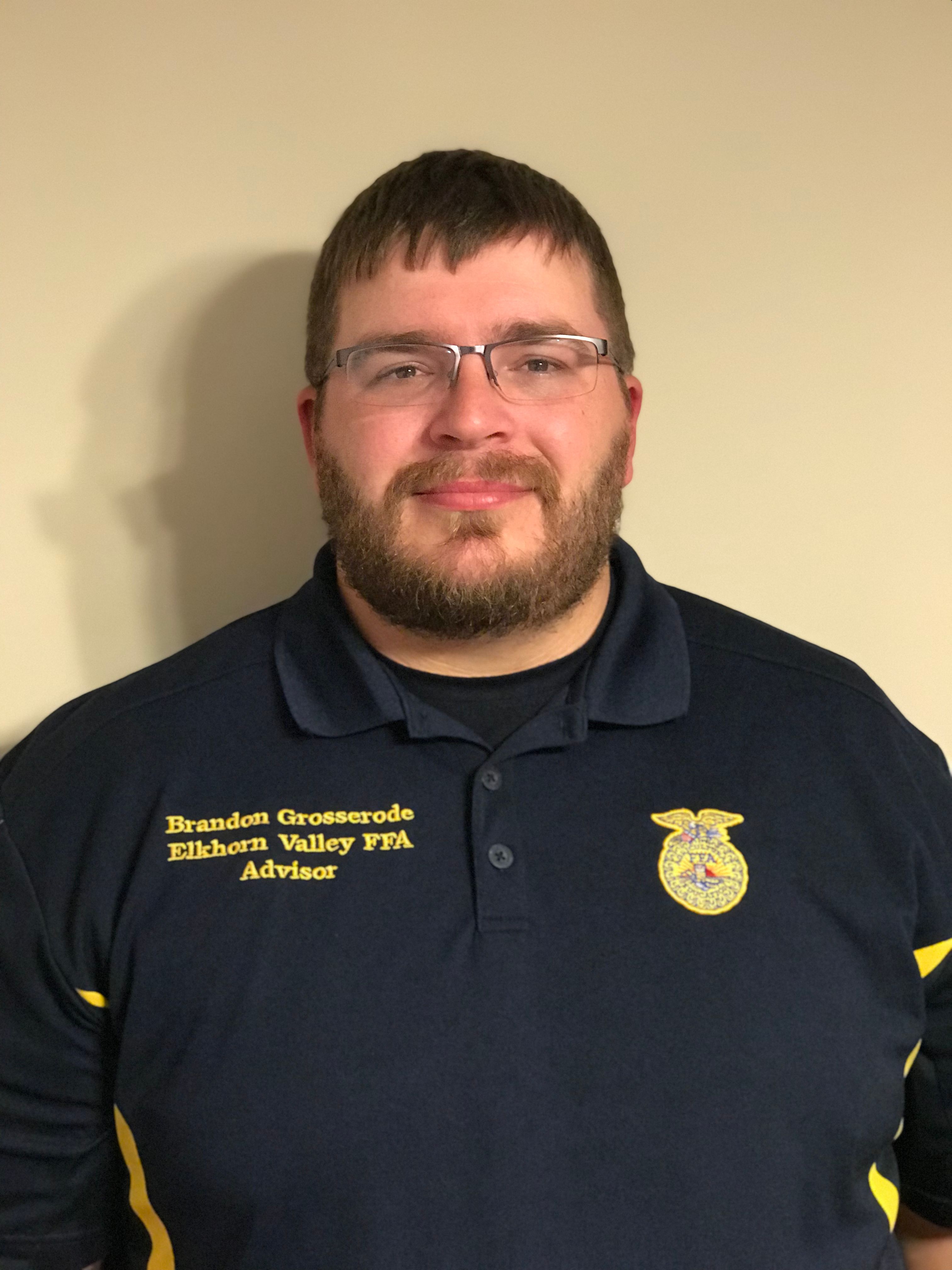 "An opportunity to start a new program down the road from your hometown only comes along once in a lifetime," says Brandon Grosserode.
Brandon has been teaching for seven years, and this year he had the opportunity to start a new agricultural education program and FFA chapter at Elkhorn Valley Public Schools in Tilden.
Brandon began his career by attending a two-year college to receive his associates degree in agribusiness. He knew he eventually wanted to have a career in education, but didn't know if math or agriculture would be the perfect fit for him. His parents and now wife persuaded him to try agricultural education in college for a year. After that year, he knew that agricultural education was the right choice for him.
After graduating, he taught at Ansley. In his second year of teaching, Lonnie Koepke, who also taught agriculture, mentioned the benefits and curriculum that CASE, Curriculum for Agricultural Science Education, offered. CASE is a professional development workshop on specific courses in agricultural that can take 50-100 hours of training. 
Brandon decided to enroll in the Animal Science CASE course and saw the benefits that Lonnie mentioned to him. Brandon then became CASE endorsed in Plant Science and Introduction to AFNR. 
"The curriculum makes agricultural education much more enjoyable with the day-to-day guidelines, hands-on inquiry-based learning and is aligned with core standards," Brandon said. 
Since Elkhorn Valley is a new program in 2018, he didn't have all the funds necessary to purchase CASE equipment this year. Through the Foundation and Nebraska Soybean Board grant, he was able to purchase CASE equipment for his new classroom. The CASE equipment costs around $20,000 for each category, and the Foundation and Nebraska Soybean Board were able to award the Elkhorn Valley agricultural classroom with over $8,500 to purchase the equipment. 
Brandon and the Elkhorn Valley FFA chapter have already been impacted by the Foundation in many other ways. The chapter received new officer stations and some members received free FFA jackets through the Blue Jackets. Bright Futures. program. The chapter plans to attend state convention, Chapter Officer Leadership Training, Pathways to Careers Conference and participate in the I Believe in the Future of Ag campaign. 
All of these resources and opportunities have already impacted the students in just a few months. Erica Brown, Elkhorn Valley FFA member, said, "CASE has allowed us to learn about agriculture in ways we would never think, and it is making learning fun."