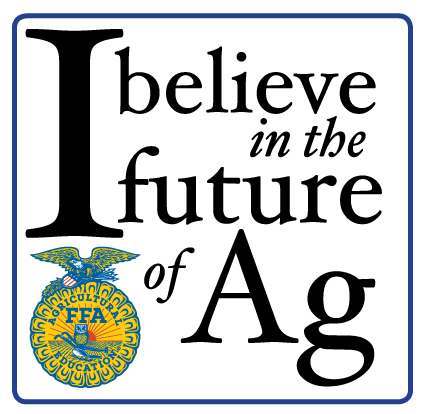 Over half of Nebraska's FFA chapters received donations through the I Believe in the Future of Ag campaign for 2020-21.
The I Believe in the Future of Ag campaign serves as an outlet for local FFA chapters to receive donations for innovative projects in their classrooms, leadership programming, community service projects and field trips to advance agriculture education in their schools. This school year, 105 chapters participated and received 100 percent of all funds directed to them and a portion of a $35,000 matching grant provided by the Nebraska FFA Foundation. 
Chapters are also rewarded for receiving at least $500 in donations and participating in the sponsor engagement contest. Those top chapters are: Ravenna FFA, Johnson County Central FFA, Bridgeport FFA, Litchfield FFA, Bloomfield FFA, Tri County FFA, McCool Junction FFA and Holdrege FFA. Those chapters were invited to the virtual I Believe in the Future of Ag Forum during the Nebraska FFA Virtual State Convention
Kortni Burnett, Bridgeport FFA advisor said, "We chose to participate in the I Believe campaign to get our students some exposure to other businesses outside of our community. It was a fun and exciting way for the students to learn about other career opportunities and even about other career pathways that could interest them. We intend to use the funds to add an aquaponics system to our classroom. We are trying to become involved in the farm to school program and would like to use the aquaponics system for the students to learn about fish and alternative ways to produce food." 
Thank you to the corporate sponsors of the I Believe in the Future of Ag program: AuctionTime.com, Aurora Cooperative, Bayer CropScience, BigIron Auctions, Central Valley Ag, CoBank, Cooperative Producers, Inc., Country Partners Cooperative, Farm Credit Services of America, Farmers Cooperative, Frontier Cooperative, GrainBridge, Nebraska Farm Bureau, Pinnacle Bank, Producers Livestock and Valley Irrigation.
The campaign will officially begin for the 2021-22 school year on September 1, 2021.