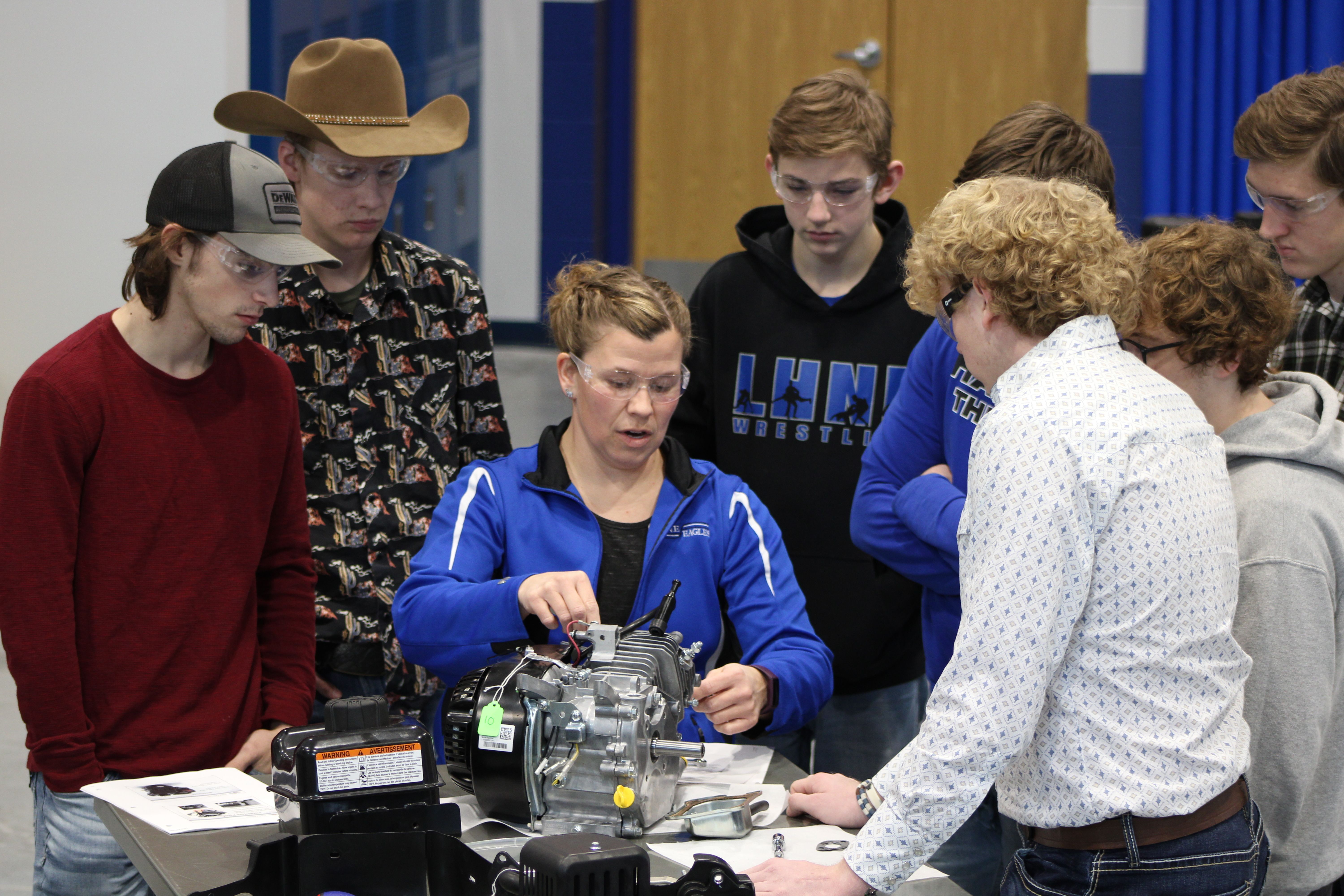 The Nebraska Golden Owl Award recognizes teachers with an outstanding commitment and impact on their students and dedication to agriculture education. Out of many nominations, six finalists were selected. Finalist, Amanda Hafer, from the Lutheran High Northeast FFA chapter, strives to provide a program where all students feel welcome. In just three short years, Dr. Hafer has worked to grow her program and provide opportunities for her students while working towards her teaching certificate as a transitional educator.
Dr. Hafer began her professional career as a veterinarian. Frustrated by the commitment that took away from family time, she took a shot at education. Her first teaching job was in the veterinary technician program at Northeast Community College. She quickly found a love and passion for education and taught there for ten years. When her church presented her with an opportunity to teach high school agriculture at Lutheran High Northeast, she wasn't sure about it. Eventually, Dr. Hafer decided to put her passions of faith and education together and began the process to obtain her teaching certificate. Even though her journey to agriculture education has been long, Dr. Hafer believes that if you find something you love, you should just do it.
Throughout her time as an advisor, Dr. Hafer has enjoyed watching her students find their place in FFA. She has been enlightened to watch her students' reactions after contests, whether it was something new they learned or celebrating after a successful day. Her favorite memory so far was her first National FFA Convention when she took eight of her seniors. Not a former FFA member herself, Dr. Hafer got to experience the feelings of excitement that you get when you are part of something larger than yourself.
As a relatively new program, the Lutheran High Northeast FFA chapter puts an emphasis on agriculture literacy in Norfolk and surrounding communities. During National FFA Week, FFA members visit area grade schools to spread agricultural awareness through the Nebraska Farm Bureau Foundation's Connecting Chapters program.
Running a successful ag program is more than a one person job. Dr. Hafer credits much of her success to supportive family and friends, school administrators and secretary, booster club, parents, the ag community, and church. Throughout this journey, the Lord has provided her with what she needed to encourage her students. She isn't afraid to ask for help either, as she invites speakers into her classroom and takes students on field trips to expose them to areas outside of her expertise. "Dr. Hafer puts her heart and soul into helping these kids learn all they can about agriculture," explained one nominator.
Outside of the classroom, Dr. Hafer enjoys spending time with her family doing activities such as fishing and cooking. She also teaches Sunday school at her church and works at the veterinary clinic a couple of times a month.
Finding a balance between running an agriculture education program and managing a personal life is hard. Dr. Hafer's philosophy is not to find a perfect balance all the time, but work for a balance in the long run. Setting boundaries and investing her time in her personal life when FFA activities are at a lull allows her to be more present during the busy FFA seasons. She reminds herself that the ag program cannot be everything all the time. She focuses on their strengths and runs with it, not worrying about what other chapters are doing.
Another nominator shared, "Her love and passion for all things agriculture shines through and creates that in her students as well. Dr. Hafer is always supportive, always smiling, and always willing to go the extra mile for the love of this land and for her students."
The Nebraska Golden Owl Award is sponsored by the Nebraska Agriculture Educators Association, the Nebraska FFA Foundation, and Nationwide.