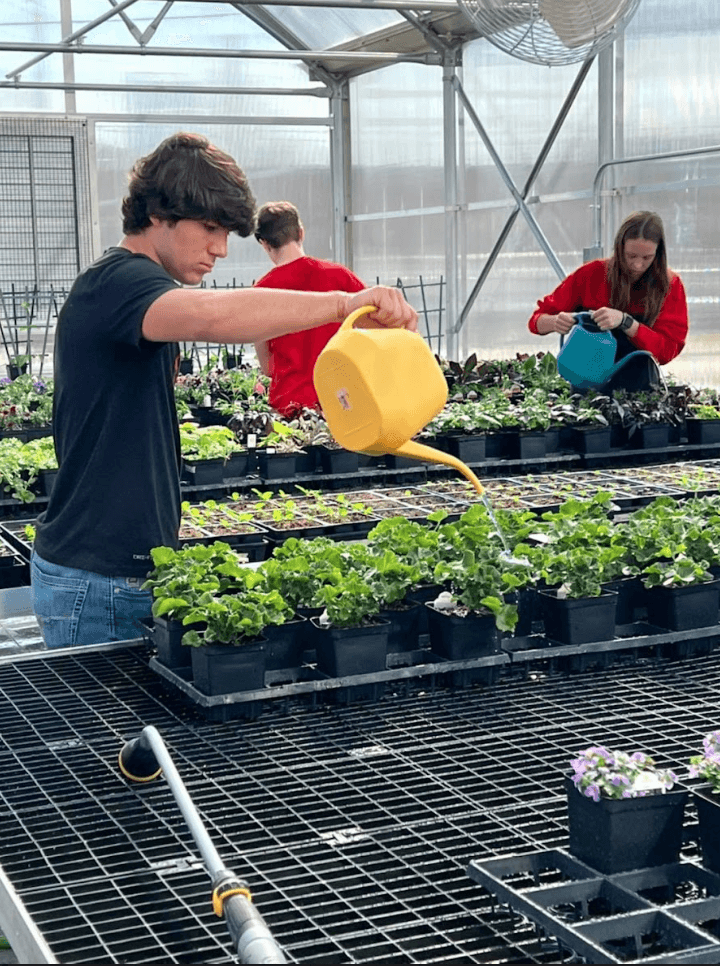 Prior to 2020, the agriculture education facilities at Friend High School were limited to the space within their classroom. After receiving a local chapter grant from the Nebraska FFA Foundation, they were able to expand their learning space outside the classroom and into a new greenhouse. 
Since the addition, the program has added an agronomy and nursery/landscape class. Students in the agronomy class operate their hydroponics system to grow many different types of vegetables for their school lunch program. During the spring, students in all classes are engaged in the growing, marketing, and development of plants for their spring sale. Advisor, Amy Kohtz, tries to get all her classes involved in the greenhouse and doing labs. Some experiments have included plant and seed propagation, soil testing, and grafting. Students have appreciated being able to get out of the classroom, put their hands in the dirt, and work. 
They currently have five different types of lettuce and stock plants for plant cuttings. They are getting ready to plant cucumbers and three different varieties of tomatoes. Additionally, they are increasing their leafy greens in the hydroponics unit to include kale, spinach, and swiss chard. This spring they will have around 3,000 plants of all different kinds and varieties including vegetables and fruits, as well as ornamental plants and flowers. 
Next year, they are planning on growing mums and have had several students indicate interest in taking care of them. Some students want to buy their own plugs, grow them in the greenhouse, and profit from those sales. This is a great opportunity for students to develop entrepreneurship SAEs while utilitzing the new greenhouse. In addition, their program will also be offering a planting workshop for a philanthropic group in town. The new greenhouse has provided students with the opportunity to expand their knowledge and gain valuable hands-on experience.