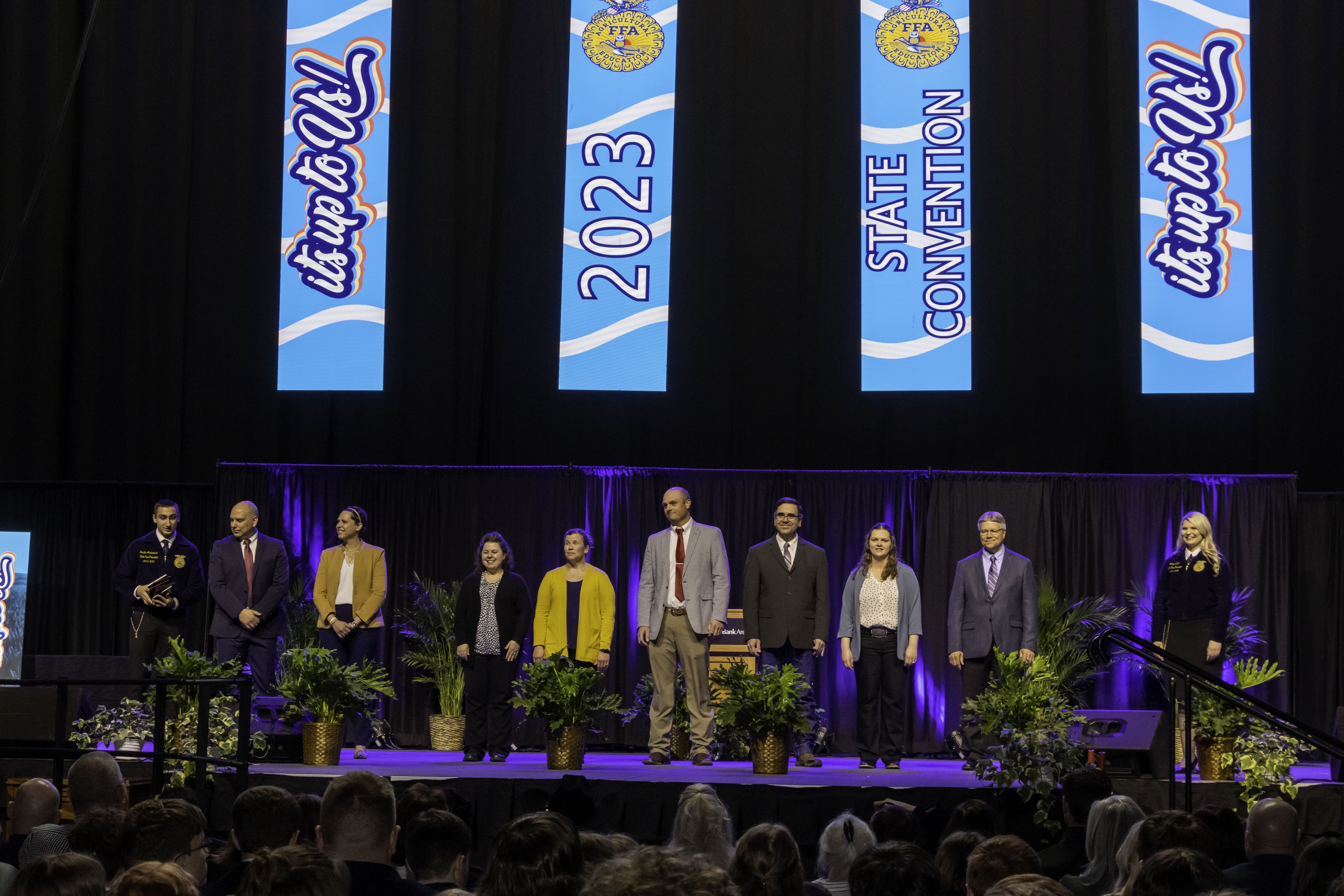 On March 31, 2023 the Nebraska FFA Foundation, Nebraska Agricultural Education Association (NAEA) and Nationwide recognized six teachers as finalists for the 2022-2023 Agricultural Educator of the Year honor through Nationwide's Golden Owl Award.
Amanda Hafer, Ag Teacher and FFA Advisor at Lutheran High Northeast
Ashtyn Vivion, Ag Teacher and FFA Advisor at Alliance
Brent Nollette, Ag Teacher and FFA Advisor at Valentine
Chad Schimmels, Ag Teacher and FFA Advisor at Eustis-Farnam
Randy Vlasin, Ag Teacher and FFA Advisor at Hayes Center
Robyn Graham, Ag Teacher and FFA Advisor at Humphrey
As finalists, each teacher was presented with a $500 cash prize and plaque in front of fellow teachers and students at the State FFA Convention during the sixth convention session at Pinnacle Bank Arena. Now, each finalist has the chance to be crowned as Nebraska's Agricultural Educator of the Year.
Agricultural educators play a vital part in their communities, dedicating countless hours to equip students for fulfilling careers and help them follow their interests. To honor their contributions and support them with additional resources, Nationwide established the Golden Owl Award to recognize outstanding teachers across several states.
Between Oct. 1 and Dec. 31, 2022, the Nebraska FFA Foundation, NAEA and Nationwide collected nominations for Nebraska's top agricultural teachers from students, parents and community members across the state. Following the recognition of six finalists, a selection committee will honor one finalist as Nebraska's grand prize winner and Agricultural Educator of the Year. The winner will receive the coveted Golden Owl Award trophy and an additional $3,000 Nationwide-funded check to support the development of their program.
Nationwide supports the future of the agriculture community through meaningful sponsorships of national and local organizations. In conjunction with the Golden Owl Award, Nationwide is donating $5,000 to the Nebraska FFA to further support the personal and professional growth of students, teachers and advisors alike.
"As a company deeply rooted in agriculture, we are proud to collaborate with our state partners to recognize outstanding agriculture teachers, who are not only critical to the communities they serve, but also to the farming industry as a whole," said Brad Liggett, president of Agribusiness at Nationwide. "We are extremely grateful for the contributions and dedication of these selfless public servants."
Learn more about the Golden Owl Awards and past honorees on Nationwide's website.