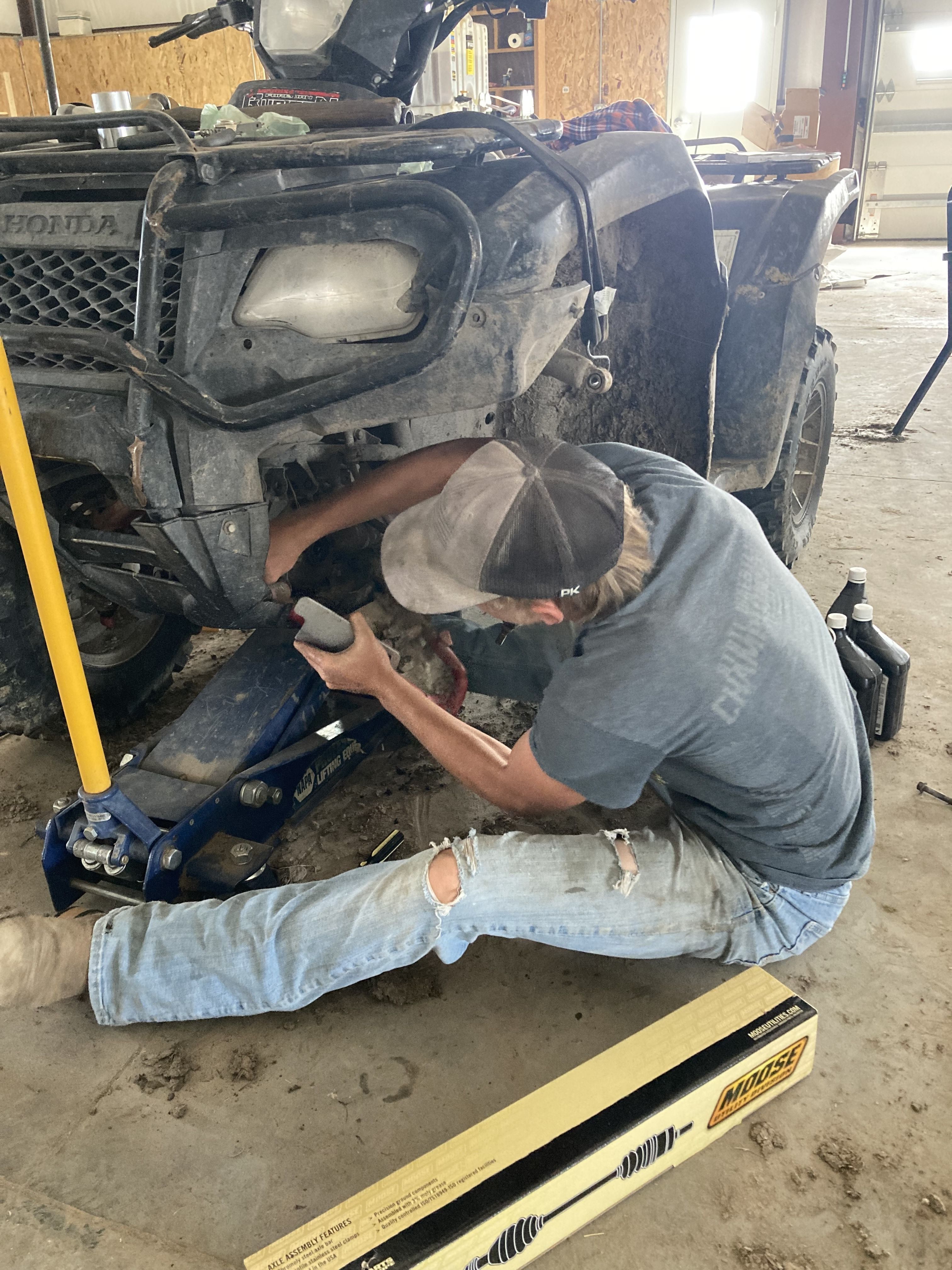 The Nebraska FFA Foundation awarded Austin Child with a grant to start up and provide tools for his All-terrain vehicle (ATV) repair business in 2022.
Austin Child, an incoming junior and a Gordon Rushville FFA member, developed an ATV repair business, fixing not only his family's ATVs but his communities around the Gordan Rushville area as well. Austin has been around ATVs growing up, mastering simple tasks here and there, but he's ready to take it to the next level and assist others through the process. These repairs can include improving the wheels, changing the oil, and many more parts that Austin has learned along the way.
Since receiving the grant for the various tools, Austin has been kept busy with others that need their ATVs repaired. He has a concrete pad that is used for oil changes, and fixing wheels. This clean area ensures that he is staying safe when fixing whatever problem comes up with his ATVs. One important thing he's learned is how much to charge for his labor - fixing parts is not easy and is time consuming. Learning the market for repair prices, in general, has helped Austin become more knowledgeable about how much he should be charging, and he plans to develop better pricing as his experience grows by serving more customers.
Austin has learned that these kinds of projects come with lots of trial and error. Even though he's been learning to fix ATVs for years, having new supplies and tools to fix new parts of ATVs can be challenging. But Austin shares, "You can only fail in order to have success."
Austin has also expanded to other vehicles since receiving new tools, not just ATVs. With the help of his dad, he's learned to repair tractors, and side by sides as well. Broadening his area in repairs, he's made new connections that have helped him expand his business. One of his primary sources was through football camp, from there he's been able to go to teammate's ATVs or four-wheelers and help them with whatever may need to be fixed.
Austin's future plans are still unknown, but he plans to stay at the family farm and continue repairing the ATVs and other vehicles around the farm and community. One of his dreams is to become a Hotshot, an elite firefighter trained to fight wildland fires and respond to other emergencies nationwide.