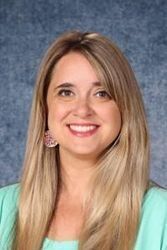 The Nebraska FFA Foundation is excited to welcome Ashley McCarter to the team.

Ashley was born in Sergeant Bluff, IA, and moved to Juniata, NE eight years ago. She worked in education, primarily as a recruiter for Morningside University in Sioux City, IA, and Central Community College in Hastings. Most recently, she has worked as a Guidance Counselor at Giltner Public Schools.

As the guidance counselor for Giltner Public Schools, Ashley played a role in implementing the Giltner FFA Chapter. While she didn't grow up in the agriculture industry she felt inspired by the process of starting this FFA program "it has been the most interesting and fun learning curve" says Ashley. She loves seeing students grow and challenge themselves in new ways and knew that FFA would be a great opportunity for them.

Through the process of starting Giltner's FFA program, Ashley began to fall in love with the agriculture industry, which is one of the reasons why The Nebraska FFA Foundation is thrilled to bring her on as a staff member. Ashley is joining the team as the Development Coordinator. Her responsibilities are connecting donors with the foundation's work and raising funds to support the mission of the Nebraska FFA Foundation, connecting volunteers with various ways to become more involved with Nebraska FFA, and fundraising for events and activities.

Ashley is excited to make new connections and friendships in the FFA community and all of us at the Nebraska FFA Foundation are beyond delighted to have her join the team.