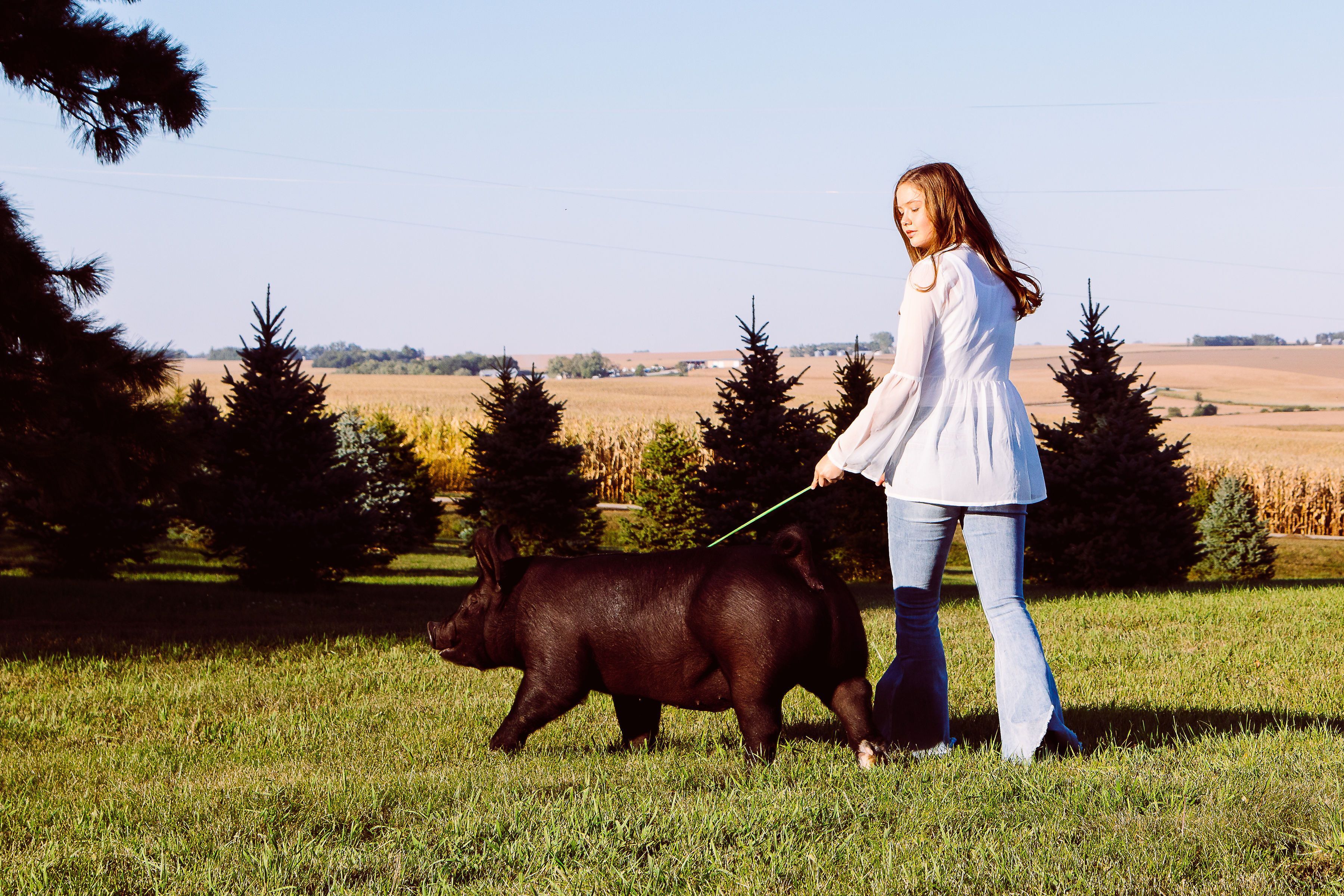 Elise Anderson came from a small town where she was able to do a lot of different things her school offered, including FFA and agriculture education. A former member of the Lyons-Decatur Northeast FFA chapter, Elise found her passion for agriculture in school through FFA and outside of school in 4-H. One of the things she enjoyed about FFA was how broad it is. She liked that there were many different pathways in agriculture. Throughout her time in FFA, she competed in a variety of contests including food science, livestock judging, farm management, employment skills, and parliamentary procedure. During her FFA experience, she had two Supervised Agricultural Experiences (SAEs) in Swine Entrepreneurship and Outdoor Recreation.
Elise's swine entrepreneurship SAE came naturally as she is a third generation swine producer. She began showing pigs in 4-H when she was eight years old. As she got older, she began to take on a larger role in selecting and selling animals. Elise explained that the hardest part was keeping good records but that it provided a great learning experience for her.
Elise's second SAE in outdoor recreation fueled her passion for people. While working at Harvest Moon Pumpkin Patch in Oakland, Nebraska, she performed a variety of duties including feeding animals, working admissions and pumpkin sales, baking and serving food, driving the train, and working with kids. One thing that amazed Elise about her SAE, was the impact that agrotourism can have on people from bigger cities. This offered a great opportunity for children and adults to to interact with agriculture whether it be interacting with animals or walking through a corn maze. This was something she loved to be a part of while working at the pumpkin patch.
Having more than one SAE offered Elise variety in her learning experience. With one SAE in entrepreneurship, she could navigate the trial and errors of decision-making on her own. While working for someone else does have its challenges, it offered Elise opportunities to try many different things from sales to customer service and food handling to livestock management. Two of her favorite things are animals and people. Having more than one SAE allowed Elise to fuel both of these passions.
Looking ahead, Elise plans to continue working for the Harvest Moon by putting in hours during the fall at the pumpkin patch and helping serve for their wedding side of the business. She continues to raise pigs, buying market animals in the spring to finish and sell in the fall. One way that Elise would like to combine the skills she has learned from her two SAEs, is by starting a direct-to-consumer pork business. This will allow her to continue to raise pigs while applying the skills she learned in customer service and sales at Harvest Moon.
Elise is currently attending the University of Nebraska-Lincoln where she majors in Agriculture Leadership with a minor in Animal Science. She plans to be an extension educator following college to inspire kids to find their passion in agriculture like she did. Elise is very grateful for her bosses at Harvest Moon and her FFA advisor who have encouraged her to pursue agriculture.
If Elise could offer any advice to current FFA members, it would be to "try everything!". FFA has so many opportunities, so she encourages members to try that thing you might be nervous to do. The experiences that she has had in FFA confirmed her desire to stay in the agriculture industry. As a young kid, she learned so much through FFA, and it has truly made a difference in her life!