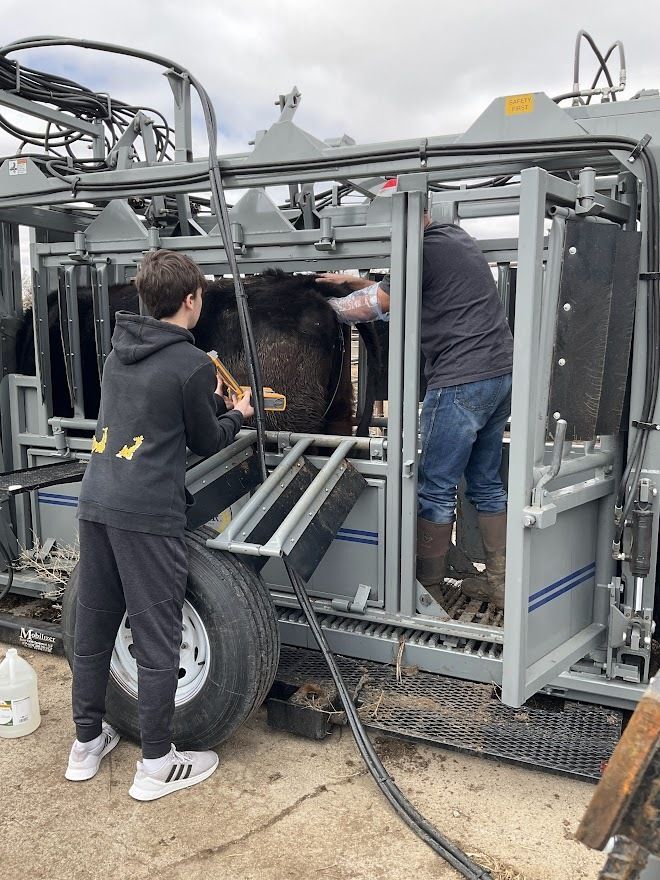 Agriculture education students at Hampton Public School were tasked with deciding the future of their program. When asked whether they wanted to see plant or animal science expansion, over 80% of students said they wanted to see animals on campus. Six years later, students are experiencing the impact of that decision.
The "Hawk Herd" currently consists of three production cows, two calves, and a steer. In addition to their cattle herd, they have five laying hens. Students have the opportunity to assist with the artificial insemination process, gain skills in livestock management, and grow their communication skills by making phone calls to order feed and hay, ask for donations, and contact their veterinarian.
Since the start of this project, Hampton FFA has brought in a few steers to finish feeding out that went into their school lunch program. In February, they harvested their first steer, making it the first animal to enter their school lunch program that was born and raised at the school. The steer made it to students lunch trays by March this year.
From this experience, students have learned just how long it takes for an animal to be born and raised up to market weight. Students that are not part of a beef operation are encouraged to be in the animal lab classes, so they can see and learn the basics of the beef industry on a small controlled scale. This experience has opened the eyes of many who have been removed from the farm and don't get to see what the meat animal industry entails.
One student enjoyed the experience so much that it led them to seek out a job working on a feedlot. This student had transferred from Lincoln and had little experience with livestock. They turned this experience into their current SAE by gaining skills assisting with more than just the animals at the school. Another student has gained more of an understanding of the end product that they are producing by working for a local butcher for their SAE.
Running this school-based operation takes a lot of hard work. Students have learned responsibility knowing that chores have to be done no matter what the weather is doing or how busy their schedules are. During weekends and holidays, students take turns doing chores. They have gained an appreciation for cattle producers and the hard work that they do on a daily basis for much larger-scale operations.
With the assistance of the Nebraska FFA Foundation local chapter grant, they have purchased and planned for their own pasture ground at the school for their cows to graze all summer long. The shed was put in place last spring, and the students are currently setting posts and installing continuous fencing this fall. With so much to do at their animal lab, Hampton students are never short of hands-on learning opportunities.