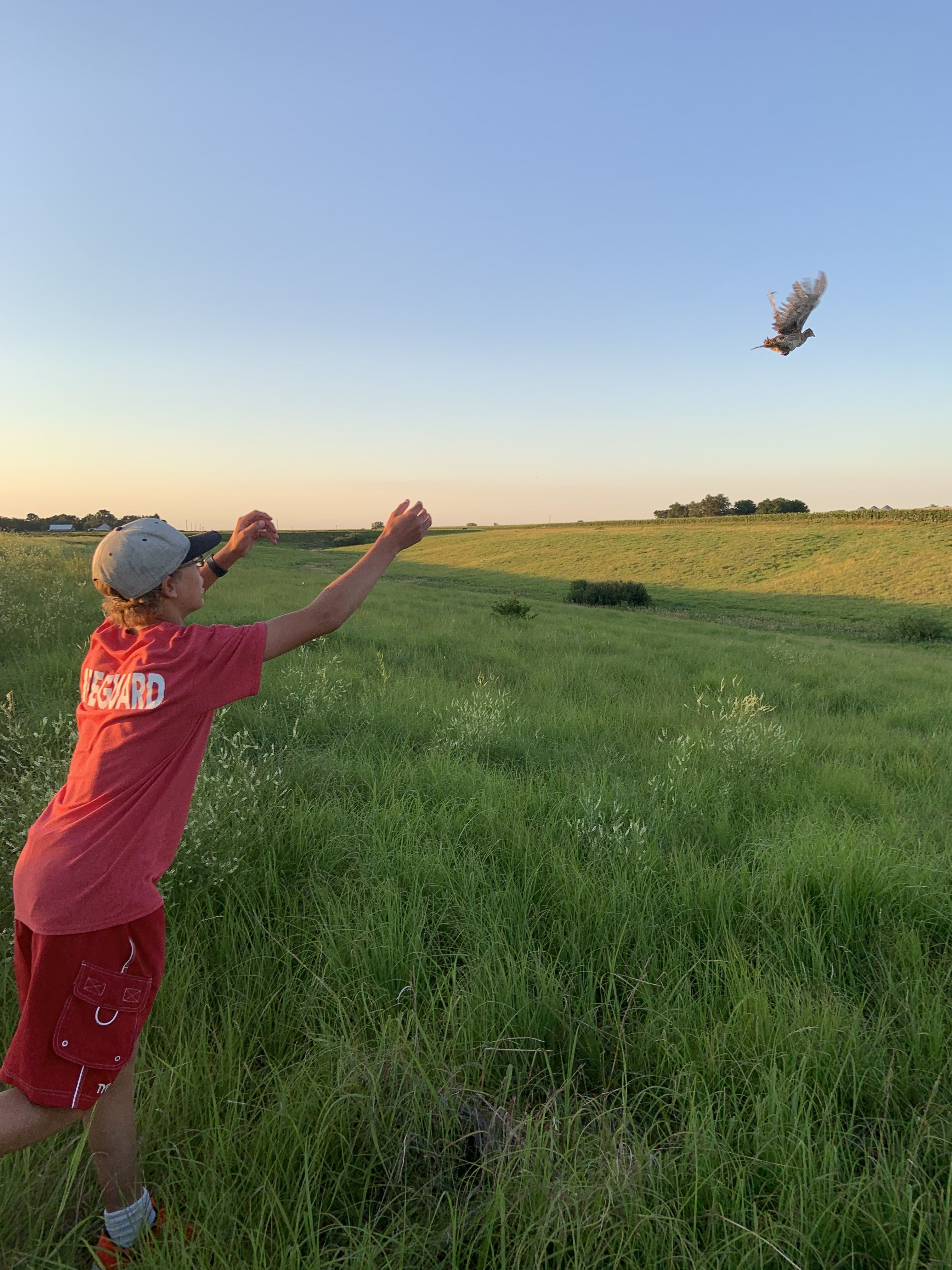 Nick has been a pheasant hunter his whole life, and over the past couple of seasons, he saw a decrease in the number of birds during the pheasant season. Wild pheasants don't have any legal protection for themselves or from predators. Year after year there would be fewer pheasants that he would catch. Nick knew he wanted to improve the experience for hunters around his area.
Nick decided to take action his freshman year of high school. He created his Supervised Agricultural Experience (SAE) by raising his own pheasants to release them into the wild. To ensure data could be collected, each bird released is tagged with a band. With this, he could get various kinds of data after they were released and hunted all while improving the pheasant population, refining the hunting experience in St. Paul.
The process of Nick's SAE was very time consuming; one of the greatest skills he learned was time management. Over the course of his three year SAE, he was responsible for raising these birds from hatching to releasing. This meant frequent site visits to see if the pheasants needed more food or water, and he learned how to care for sick and injured pheasants.
Nick shares that wildlife management SAE's create encounters and situations that are unexpected, and those new experiences make it all worth it. Nick remembers when he finally got a call from someone who had harvested one of his released birds. The hunter gave Nick his band number and the location of the harvest. With Nick's first piece of data, there was a feeling of relief and satisfaction. Pheasants were reproducing and the population was increasing, Nick reached his goal and realized he was truly making a difference.
Range judging played a big part in his career interests. FFA shifted Nick's career path in a way he never thought possible. He shares, "Before I started FFA, I wanted to be a doctor. Once I got into FFA, it shifted my ideas." He was also able to take his SAE to the next level, qualifying for Nationals in Natural Resources.
Looking ahead, Nick's parents have played a role in maintaining the pheasants while he finished his freshman year at South Dakota State University where he is majoring in Rangeland Management, with a triple minor in Ranch Management, Botany, and Aviation. Now that he's back for the summer he continues to invest into his pheasants and is working towards his American Degree. In the future, Nick hopes to continue to improve pheasant populations and their habitat across the nation.
If Nick could offer any advice to current FFA members, it would be to "Step outside of your comfort zone, its 100% worth it!" Nick knows FFA has much to offer, you'll only find your interests if you try. The time and dedication that you put into an SAE make the results all worth it.