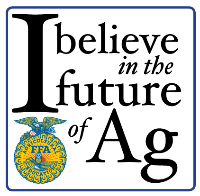 The Ravenna FFA Chapter participated in the I Believe in the Future of Ag campaign, and also was named one of the top chapters for I Believe in the Future of Ag. 
Each year the Ravenna FFA chapter participates in the campaign to receive additional funds to give the students more opportunities. Over the years they have used their donations in a variety of ways. One way they have recently used the funds was to purchase supplies for their greenhouse. Another way the donations have been used was to purchase Career Development Event study materials.
Heath Ahrens, Ravenna FFA Advisor, said that the I Believe in the Future of Ag campaign has helped his chapter receive more donations because people in the community hear and read about the program. At their annual banquet, they showcase the program and all of their support throughout the year.
The I Believe in the Future of Ag campaign serves as an outlet for local FFA chapters to receive donations for innovative projects in their classrooms, leadership programming, community service projects and field trips to advance agriculture education in their schools. Chapters receive 100 percent of all funds directed to them and a portion of a $35,000 matching grant provided by the Nebraska FFA Foundation. This year, 144 out of 193 Nebraska FFA chapters participated in the campaign.
Chapters are rewarded for receiving at least $500 in donations and participating in the sponsor engagement contest. Those top chapters are: Ravenna, Johnson County Central, Litchfield, Verdigre, Allen-Wakefield, Heartland, McCool Junction, Randolph and McPherson County.
Thank you to the sponsors of the I Believe in the Future of Ag program: AuctionTime.com, Aurora Cooperative, Bayer CropScience, BigIron Auctions, Central Valley Ag, CoBank, Cooperative Producers, Inc., Country Partners Cooperative, Dekalb, Farm Credit Services of America, Farmers Cooperative, Frontier Cooperative, GrainBridge, Hoegemeyer Hybrids, Nebraska Farm Bureau, Pinnacle Bank, Producers Livestock and Valley Irrigation.
The campaign will officially begin for the 2020-21 school year on September 1, 2020.