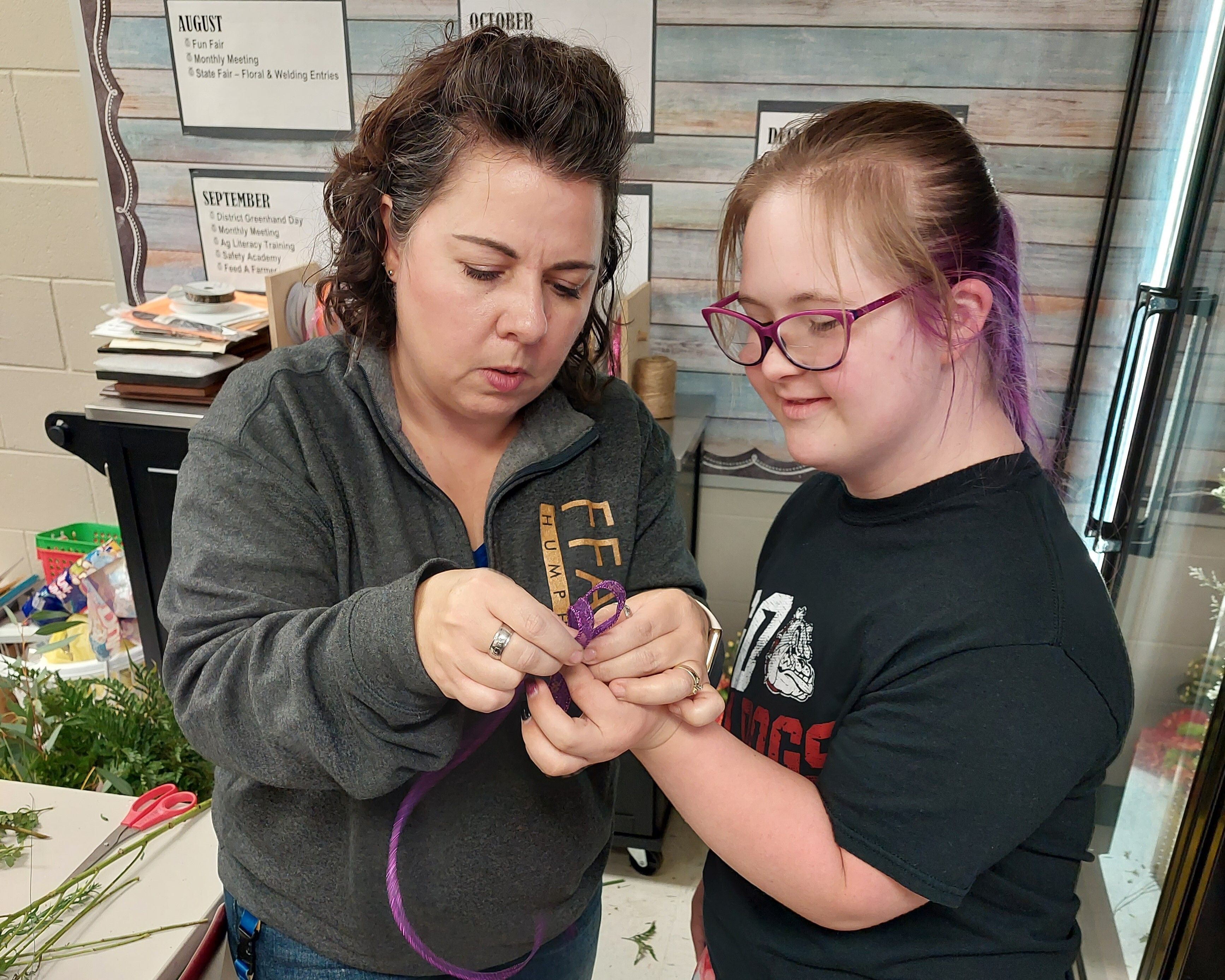 The Nebraska Golden Owl Award recognizes teachers with an outstanding commitment and impact on their students and dedication to agriculture education. Out of many nominations, six finalists were selected. Finalist, Robyn Graham, from the Humphrey FFA chapter, displays sincere service to her students and community by providing opportunities for all students to get involved.
Growing up in the Leigh FFA chapter, Mrs. Graham was inspired by her exceptional ag teacher as well as a talented student-teacher. These individuals displayed great examples of teaching and how an outstanding program is run. Mrs. Graham began her teaching career at Fairbury and has spent the remainder of her 21 years in education at Humphrey.
One of Mrs. Graham's favorite parts about being an ag teacher and FFA advisor is that every day and every class is different. She appreciates that students are always up for something exciting and new. She also enjoys teaching seventh and eighth graders. Interacting with students from a younger age gives her plenty of opportunities to see them grow as students and leaders while continuing to support them even after high school.
Support as a teacher goes far beyond their specific subject area. One nominator commented, "Mrs. Graham is always empathetic with her students…She challenges students when they share information with her, encouraging them to figure out the next step or sympathizing with them by asking what she or they can do to turn the situation around." Mrs. Graham enjoys it when students come to her to celebrate or if they need advice. It shows her that she has impacted them and that she is important enough to them to want to share their life with her.
If there is one thing the students at Humphrey FFA are known for, it is that they are good-hearted students who love to serve their community. Throughout the school year, they provide a variety of service activities, such as Feed a Farmer, Spring Cleanup, Safety Academy, and Ag in the Park. These activities give students the opportunity to engage with the community while providing an educational component whether it be through structured learning activities or casual conversations with community members.
A memorable moment for Mrs. Graham, as well as former students, was when the chapter was recognized with the National Model in Innovation and Community Development Award. It was fun for students to showcase their chapter at the national level and be recognized on stage at the National FFA Convention. The Humphrey FFA chapter has been recognized as a premier chapter at the national level since 2011. This award is unique as it recognizes everything the chapter does and the contributions of all its members.
Outside of the classroom, Mrs. Graham enjoys spending time going to her three kids' activities and running her family's cow-calf operation. Her husband is a large animal vet, so she also spends time helping with tasks related to his work. Running a successful agriculture education program requires a lot of time to meet the needs of the school and community. Mrs. Graham is very grateful for the grace and understanding that her family has for her job and the ways that they support her.
Humphrey FFA is a shared program between Humphrey Public School and Humphrey St. Francis. Managing a program between two schools is not an easy task. One nominator shared, "It takes a very special person to build a program to this caliber with students from two different schools, bringing them together with a common mission and vision of promoting agriculture education within our small community of Humphrey." Mrs. Graham does an excellent job of welcoming all students into the program while providing equal opportunities for members to get involved.
The Nebraska Golden Owl Award is sponsored by the Nebraska Agriculture Educators Association, the Nebraska FFA Foundation, and Nationwide.