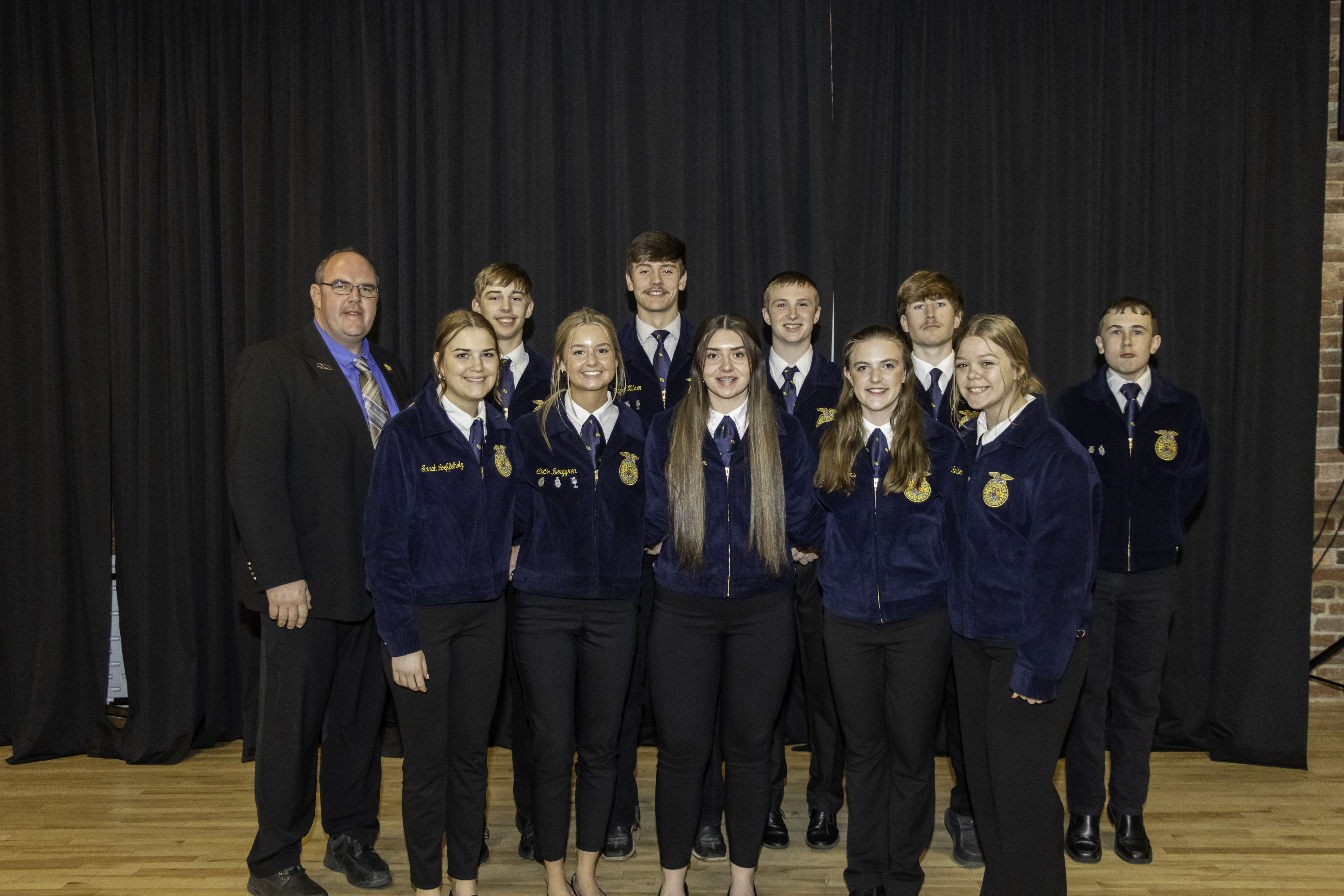 Chapter Recognition
Ten Nebraska FFA Chapters were recognized at the I Believe in the Future of Ag Forum hosted by the Nebraska FFA Foundation on March 30 at the DelRay 817 at 5:00pm, and the Top I Believe Chapters and sponsor recognition happened at 7:00pm in Pinnacle Bank Arena.
Pleasanton and Johnson County Central were named the top two I Believe in the Future of Ag chapters based on receiving at least $500 and participating in the sponsor engagement contest with the 19 corporate sponsors. Both chapters gave brief remarks at the I Believe Forum at the DelRay 817 and received a banner during the fourth convention session in Pinnacle Bank Arena.
The I Believe in the Future of Ag campaign serves as an outlet for local FFA chapters to receive donations for innovative projects in their classrooms, leadership programming, community service projects and field trips to advance agriculture education in their schools. Donors to the I Believe in the Future of Ag campaign chose which chapter they support, and 100% of each local donation was sent back to the designated chapter. Over $362,500 was donated to local FFA chapters this year.
Sponsors
This year LivestockMarket.com, BigIron Auctions, Central Valley Ag, CoBank, Green Plains, Aurora Cooperative, Bayer, Chief, Country Partners Cooperative, CPI, DEKALB, Farm Credit Services of America, Farmers Cooperative, Frontier Cooperative, Nebraska Farm Bureau Federation, Pinnacle Bank, Producers Livestock, Rembolt Ludtke and Valley Irrigation sponsored the I Believe campaign to provide resources for an education campaign and matching funds for the local chapters.
Nebraska FFA Foundation I Believe sponsor, Frontier Cooperative, knows the value in investing in Nebraska FFA chapters. Sophia Svanda, Frontier Cooperative Communications Manager said, "Agricultural education and FFA play a major role in developing the next generation of ag leaders. We proudly support the I Believe in the Future of Ag campaign because it is a small way that we can provide resources to local FFA chapters, help create opportunities for students, and give back to the communities that support us."
Donate to Local FFA Chapters
You can support any FFA Chapter now by clicking here or mailing your donation with I Believe in the Future of Ag donation card to: Nebraska FFA Foundation, PO Box 94942, Lincoln, NE 68509-4942.