Support Your Local FFA Chapter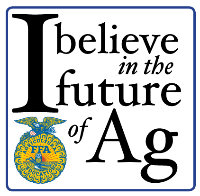 Eighteen corporate sponsors have partnered with the Nebraska FFA Foundation for the 2017-18 I Believe in the Future of Ag campaign. They've challenged local FFA chapters to raise $300,000 at the local level and have offered up $35,000 in matching funds.This year, Aurora Cooperative, BigIron Auctions, Central Valley Ag, CPI, DEKALB/Asgrow and Verdesian committed $20,000 each to the campaign. Other sponsors, contributing $10,000 each, include Bayer CropScience, CoBank, Country Partners Cooperative, GrainBridge, Farm Credit Services of America, Farmers Cooperative, Frontier Coop, Nebraska Farm Bureau, Pinnacle Bank, Producers Livestock, Valley Irrigation and Croplan by WinField United. 
As part of this program, local supporters can donate to their local FFA chapter through the Nebraska FFA Foundation. The designated chapter will receive 100% of the money and a portion of the $35,000 matching pot. Local chapters are using their money for various innovative projects in their communities and schools. Check out our impact stories to learn more.